I wish to have a grey and white kitten
Aryana
10
cancer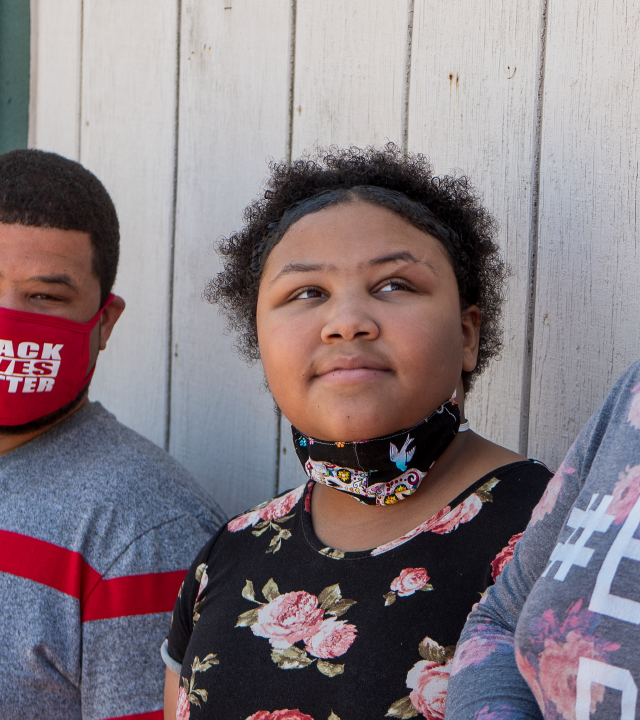 Ten-year-old Aryana has a very fitting nickname around her household.
"I call her Ary warrior," says her mother, Melissa. "She's been through a lot."
Since birth, Aryana has struggled with various health issues, often finding herself in and out of the hospital. Then in May of 2019, Aryana's health took a worse turn when doctors discovered a growth on her kidney. She was diagnosed with a Wilms' tumor, a rare form of cancer that primarily affects young children.
For six long months, Aryana was hospitalized at Oakland Children's Hospital. "It was scary," says Melissa. Aryana's father, Alfred, had recently lost a cousin to cancer at that very hospital. The uncertainty was overwhelming.
"We didn't know what to do because she was really sick; she couldn't walk," says Melissa. "It was just like 'oh my god, what's going to happen?'"
Throughout the whole scary ordeal, Aryana was incredibly strong, inspiring, and brave. "We were constantly back and forth to hospital, staying the night, seeing her at her worst, and even then, she was trying to keep a smile on her face," says Melissa. "This girl has been through so much and for her to still keep that positive attitude, I'm just so proud of her. That's my little blessing angel miracle baby."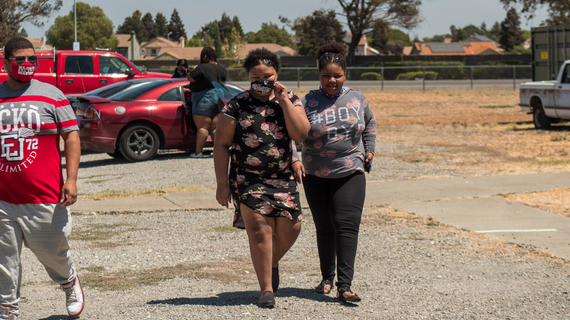 The support of her parents and the caring staff at Oakland Children's motivated Aryana to win her tough battle. "We told her she had to want to come home, and had to fight this," explains Melissa. "Of course, we will be there to help you fight for this, but you have to want it. She wanted it and she fought."
Despite their struggles, the family created moments of joy where they could. On Aryana's 10th birthday, which was unfortunately spent in the hospital, Melissa and Aryana's older sister Shanya decided to pay her a surprise visit.
"We surprised her, and she had a surprise for me," says Melissa. "She was walking with her walker. She stood up, walked to me, and it was just... I couldn't believe it." It was the first time Melissa had seen her daughter walk since her diagnosis.
This girl has been through so much and for her to still keep that positive attitude, I'm just so proud of her.
Aryana's mother, Melissa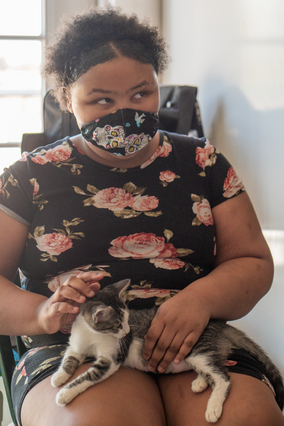 Aryana's recovery was slow and painful, with extensive physical therapy required to help get her back to her active former self. "They wanted her to get up and move," explains Melissa. "It took time and I know it was painful, but she did it. I just will never forget. That girl is a warrior straight up. A little warrior kiddo."
By fall, Aryana's health had improved in leaps and bounds, and doctors approved her discharge from the hospital. In November, she was finally back home with her family. "We got to spend Thanksgiving together," says Melissa. "That Thanksgiving was a big one for us. We had a lot to be thankful and grateful for."
When a social worker let Aryana know that she qualified for a wish, she knew her choice immediately–she'd always wanted to have a kitten. However, because of her condition, doctors recommended against adding a pet to their household at that time. "We were thinking about doing a trip or something like that, but she really didn't want that," says Melissa. "She wanted her Lily–she already had the name picked out. She knew what she wanted. She kept telling her doctor she wanted Lily."
Aryana was told that she'd have to wait until she had recovered before she could safely welcome a kitten into her life. It was a huge motivator for her to get through the next phase of her treatment. "I feel that was another reason why she came home," says Melissa, "because she was going to get that cat."
She wanted her Lily–she already had the name picked out. She knew what she wanted.
Aryana's mother, Melissa
Finally, in August 2020, Aryana's wish was able to come true. She and her family headed to the Solano County SPCA to pick up Lily, the perfect grey and white kitten she'd been dreaming of. At the shelter, they celebrated with an adoption party, and Aryana selected some kitty accessories to help welcome Lily. It was the perfect day.
By the time they arrived at home, Aryana was so in love with Lily that she didn't want to put her down. "She was holding her like she was a newborn baby," says Melissa. "She is momma Ary now. It was beautiful, it was nice to welcome a new addition to our family."
Lily is settling in well at home, and Melissa says that she is a great representation of how far they've come. "Seeing Lily is just a reminder that all things are possible, that anything can happen," she explains. "You just have that faith and keep pushing, and do what you can do."
Today, Aryana is settling back in at school, where caring teachers have helped her with the rocky transition. "When she came back, it was like a family reunion," says Melissa. "Everyone was happy to see her." She is working on building her strength back so that she can sign up for basketball once the COVID-19 pandemic subsides–she dreams of one day playing in the WNBA.
Melissa hopes that the wish experience will always serve as a life lesson for Aryana—showing her that nothing is out of reach if she sets her mind to it. "If she works hard for it, she can get it," explains Melissa. "It may take time, but a lot of times things that come quick aren't worth it. The things you have to wait for and be patient for, that's worth it. It is worth the wait."
A wish brings hope back into a child's life. And for a child fighting cancer, hope is essential. These children need you. This Childhood Cancer Awareness Month, will you help more children like Aryana replace fear today with hope for tomorrow?