I wish to have a gaming computer
Andrew
18
cancer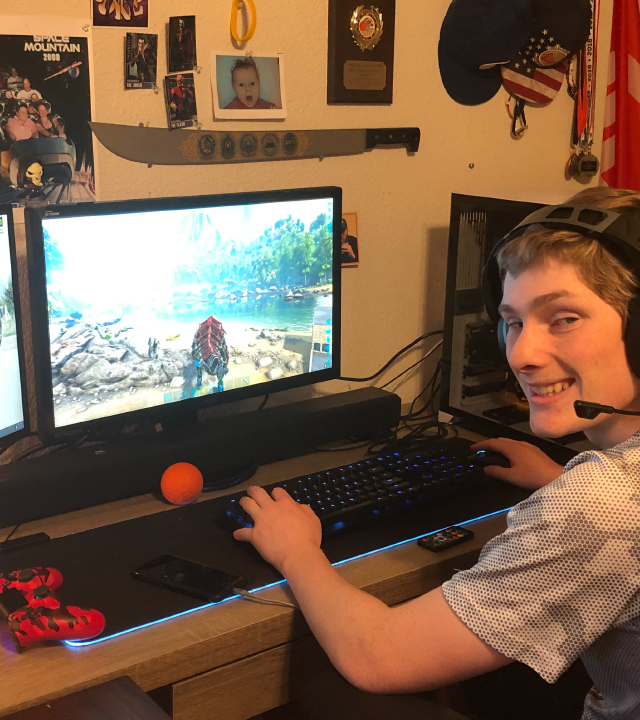 As an athletic, busy, and social teenager, Andrew's to-do list for his senior year of high school looked like this:
☐ Excel in school
☐ Play basketball
☐ Run track
☐ Become an Eagle Scout 
Just a week after starting classes, he had to add another item:
☐ Beat cancer 
The news of Andrew's diagnosis was incredibly hard on his mother, Amy. "It makes me cry just thinking about it," she says. "Seeing your child in pain, and not being able to do anything about it, is really hard." 
But Amy found comfort in Andrew's incredible strength and resilience in face of so much adversity. "He just impressed me over and over again with his perseverance and his effort," she says. 
While he couldn't remain as active as before, Andrew was still able to attend school and achieve high grades—only missing classes on days following his three-day chemo treatment. He also achieved the incredible feat of becoming an Eagle Scout, something only four percent of Boy Scouts ever accomplish. To earn the rank, the scout must independently plan, organize, and carry out an extensive service project. 
Working with a local K-8 school, Andrew established an outdoor vegetable garden from design through approvals and completion–building benches, frames, and vegetable beds. "It was a big undertaking, but he got it all done," says Amy. "He impressed me so much with how he fought through the pain and didn't let it get him down. He just kept going."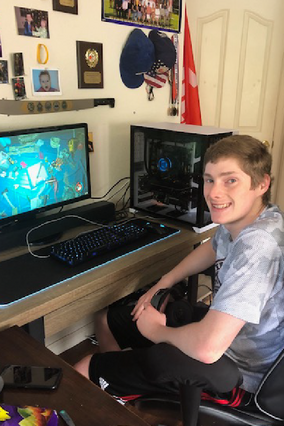 After Andrew's first round of chemotherapy, hospital staff mentioned that he qualified for a wish. Initially, Andrew hesitated–he wasn't particularly interested in having a wish granted. "He's generally the type of kid who doesn't like to ask for things, so he felt a little weird," explains Amy. 
It was advice from his mother that convinced him to think it through. "You are going to miss out on a lot because of this," Amy explained, "and it would be nice to have something to look forward to." 
She suggested that it was okay for him to ask for something–that he was worthy of a gift. "We convinced him that he deserved something to look forward to," she says. "Going through cancer is not something–thank goodness!–that many kids have to go through, but he got the short end of that stick."  
Andrew has always loved gaming with his friends, and once he decided to wish for a computer, the excitement began to build. "It was definitely a positive thing for him," says Amy. "He was looking forward to it and was excited about it." 
Andrew's wish reveal party was a much-needed bright spot towards the end of his treatment. "His friends were able to come," says Amy, "that was really important for him. As a senior in high school, his friends are even more important to him than his family sometimes!"  
Andrew's computer delivery was delayed due to the COVID-19 pandemic—shipment delays resulted in some of his parts taking longer to arrive than anticipated—but he was soon able to accept a socially-distant delivery from his wish planners. 
He impressed me so much with how he fought through the pain and didn't let it get him down. He just kept going.
Andrew's mom, Amy
Today, Andrew is cancer-free, and doing much better. His hair has grown back, and he's been exercising to build up some of the muscle mass he lost while weak from treatment. He plans to start college online in the fall, with the dream of one day becoming an EMT or a firefighter. And due to the ongoing pandemic, Andrew's wish has taken on even more importance. Thanks to his new computer, it is easy for him to stay connected with his friends during shelter-in-place.  
"It has given him a lot of enjoyment and something to look forward to," says Amy. "Getting together with his friends every night." 
While many wishes are currently on hold, we are still able to safely grant wishes like Andrew's just when they are needed most. Make-A-Wish is committed to ensuring that no child waits even one unnecessary day to experience the hope and joy that a wish brings. Your support brings experiences of hope to kids as they wait for their wishes and helps us prepare now to ensure all types of wishes are granted—when it is safe.