2021 Evening of Wishes: Hope and Harmony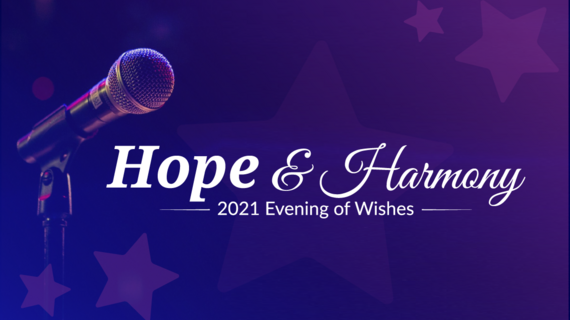 You're invited to attend our can't-miss gala, virtually! 
2021 Evening of Wishes, our signature gala event, will be held virtually on Wednesday, April 14, 2021 at 6 p.m. Join in to watch the inspirational program from home or host your own quarantine-friendly viewing party!
This year's event will highlight Hope and Harmony in the world of Make-A-Wish. Some incredible wish kids will take center stage to share their musical talents, and we'll also be celebrating all the wonderful ways our wish community works together in harmony to bring hope to wish kids and their families.
Select from a wide variety of ticket levels (read on below for more information) to tune in to the inspirational program and access an online auction filled with covetable goods and enticing experiences. Additional catered meal add-ons and festive "Gala in a Box" party packages are also available.
Additional event info
Tickets at the $100 level and above include a fabulous Gala in a Box
To bring the party to you, we've curated a selection of exciting "Gala in a Box" party packages, filled with themed favors, activities, a special playlist and access to our virtual auction.
Enhance the evening with a delicious meal and wine delivery
Individuals who purchase at the $500 Front Row Access level and above, and groups at any sponsorship level, will receive a catered meal and a wine delivery to enjoy along with the event. Catered meals will be delivered on Wednesday, April 14 in advance of the event, and are available for delivery within a 2-hour radius from San Francisco. Pick-up in Burlingame will also be available. 
Don't miss the incredible auction
Evening of Wishes will feature an online auction filled with covetable goods and enticing experiences. If you're interested in learning more about our auction or donating an item or experience, please contact Rachel Faught at [email protected].
Make a gift with your ticket purchase or become a sponsor to be recognized during the program
If you would like to add a donation to your purchase, please note that donations of $500 and greater will be verbally recognized at the event by our emcee! Sponsorships packages between $2,500-$25,000 are also available for companies or individuals. To learn more, please email [email protected]. 
Individual ticket levels 
Backstage Pass for Two | $1,000 
Access to virtual gala and auction 
"Gala in a Box" party package 
Access to playlist created by Bay Area wish kids to enjoy before and after the program  
A downloadable activity packet for kids 
An upgraded catered 3-course dinner for two with upgraded bottle of wine 
Front Row Access for Two | $500 
Access to virtual gala and auction  
"Gala in a Box" party package 
Access to playlist created by Bay Area wish kids to enjoy before and after the program  
A downloadable activity packet for kids 
A catered grazing spread for two and bottle of wine 
VIP Seating for Two | $250 
Access to virtual gala and auction 
"Gala in a Box" party package 
Access to playlist created by Bay Area wish kids to enjoy before and after the program 
A downloadable activity packet for kids 
2 bottles of wine  
Family Viewing Celebration | $100 
Access to virtual gala and auction  
"Gala in a Box" party package 
Access to playlist created by Bay Area wish kids to enjoy before and after the program  
A downloadable activity packet for kids 
Standing Room Special | $40 (in honor of Make-A-Wish America's 40th anniversary!) 
Access to virtual gala and auction