I wish to have a mermaid tail
Victoria
16
Rare genetic tissue disorder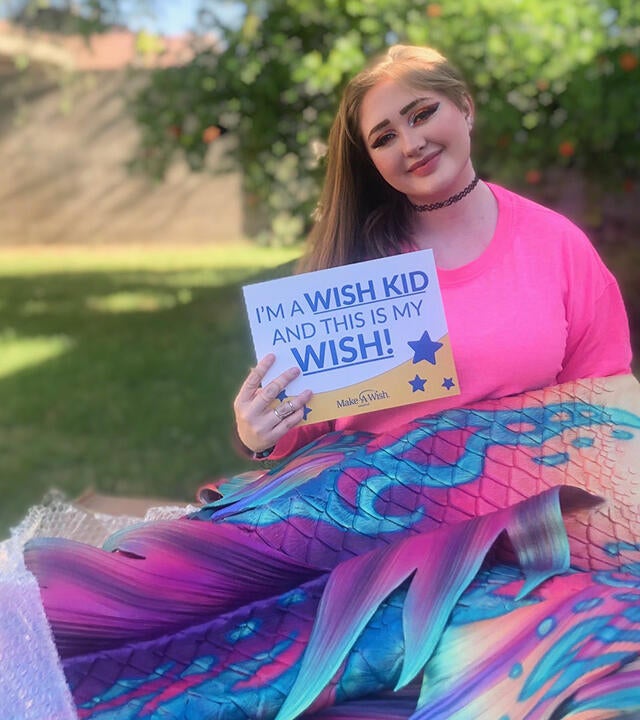 "When I was dealing with a particularly hard day, I would think of my wish. "   
After a lifetime dealing with her very rare genetic tissue disorder, Victoria, 16, was well aware of Make-A-Wish. 
"I think my mom looked into it when I was younger but for some reason, my geneticist really helped to make it happen," said Victoria. Her geneticist works with Victoria on her Ehlers-Danlos syndrome (EDS), a disease that weakens the connective tissues of the body, making her joints loose and affecting her blood vessels and organs. 
Yet it was her spirit that needed the wish. 
"My doctors knew I loved singing and performing so they thought my wish would be something like that," said Victoria. And while she considered many options, eventually Victoria decided she would wish for something truly unique – her own quality mermaid tail.  
"I've always loved the water and, after I started seeing all the mermaids on Instagram, I asked my mom for a tail," said Victoria. The tail they purchased on Amazon was nice but didn't work very well after a few uses.  
Victoria, who loves scrolling Instagram for makeup tutorials and performer profiles, started noticing the "mermaid culture" due to the stunning makeup and bright colors. But her own love of water kept her coming back to find out more.    
"I came across some mermaids on Instagram and then I couldn't stop looking for them," Victoria said. "They were so beautiful, and colorful and bright." 
When she told her volunteer wish granters that she wanted a mermaid tail, she also knew which vendor she wanted to use – Finfolk Productions. 
Victoria lives with a rare condition and her mermaid tail will help keep up her muscles while also giving her much joy and beauty. 
"When I was dealing with a particularly hard day, I would think of my wish."
Victoria
wish kid
The company was more than happy to accommodate. They worked directly with Victoria to create a mermaid tail, and matching top, that included colors of the sunset and some of her favorite blue accents. 
"Sunsets are so pretty, I wanted my tail to be the colors of the sunset but to have some blue in it too since that is my favorite color," Victoria said. Unfortunately, the tail was completed right around the tie of COVID-19 stay home restrictions so instead of the special party and pool photo shoot, Victoria's wish granters decided to ship the tail to her home. The tail was a big hit on arrival.  
"It's so pretty," said Victoria, the first time she saw her tail.  "I love it! It's so shinny." 
According to Finfolk, the tail will fit best in the water and Victoria cannot wait until the HOA in her neighborhood re-opens her local pool so she can try it out. According to her mother, the weight of the tail and use of it will help Victoria build and keep her strength, even as her body deals with her critical condition.  
"Sometimes, when I was dealing with a particularly hard day or a long treatment, I would think of my wish and think of how in the future, I would have something so amazing," Victoria shared. "To wait until it is safe to get the underwater photographs and to really get to wear it is worth the wait because I know that I will have the tail forever."