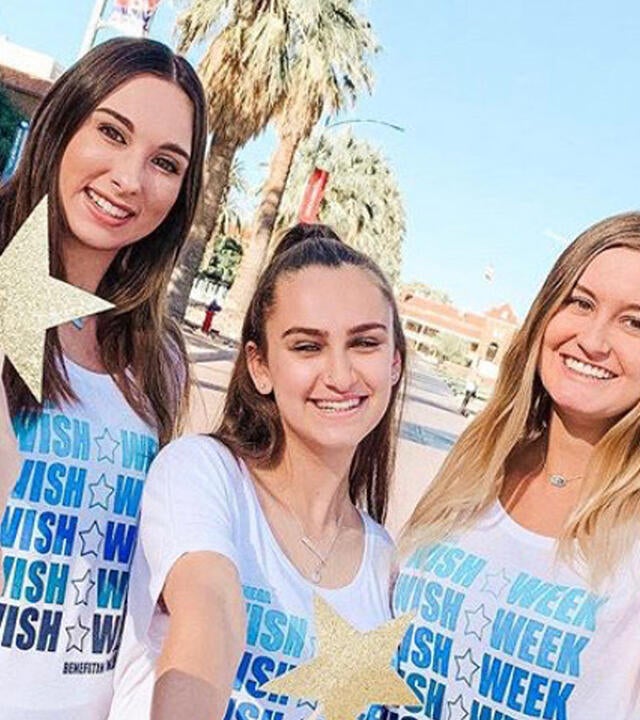 Chi Omega empowers Tucson community to give back
Since partnering with Make-A-Wish Arizona in 2002, members of University of Arizona Chi Omega Women's Fraternity have raised more than $270,000 to grant wishes for Arizona children fighting critical illnesses.
Maddie Kelly is a student at the University of Arizona who served as Philanthropy Chair for her Chi O chapter during the 2019-2020 school year. Even amid the struggles of a global pandemic, her chapter is determined to find creative ways to build excitement among members and raise funds for Make-A-Wish Arizona.
"The Walk For Wishes is always a big hit and a lot of fun for our chapter each year so we're planning a virtual, fitness-related fundraiser this fall," said Maddie. "Not all of our members have been able to return to Tucson so we want to provide something they can safely be part of wherever they are, plus invite their family members to join." 
Last year, Chi Omega was proud to raise more than $48,000 for Make-A-Wish Arizona.
While much of the chapter's fundraising success in recent years has been from popular in-person events like Waffles for Wishes, Wings for Wishes and Mac-A-Wish, Maddie says their team is optimistic and brainstorming new ideas for virtual events they can implement this semester.
"I've always been passionate about helping others, and since my position with Chi O made me aware of Make-A-Wish, I love to share with others the impact of a wish," said Maddie.
Maddie says her favorite memory as Philanthropy Chair was attending the Walk For Wishes in 2019 and standing beside a wish kid when he found out his wish was coming true live on stage.
"It was such a powerful moment and it's an honor of be a small part of these kids' happiness," she said. "We love to hear stories about the kids we've helped, and we know our efforts to raise money and awareness for Make-A-Wish Arizona will go a long way."
"I've always been passionate about helping others, and since my position with Chi O made me aware of Make-A-Wish, I love to share with others the impact of a wish."
Maddie Kelly
UA Chi O Philanthropy Chair 2019-2020