I wish to have a pool lift
Kameryn
18
nervous system disorder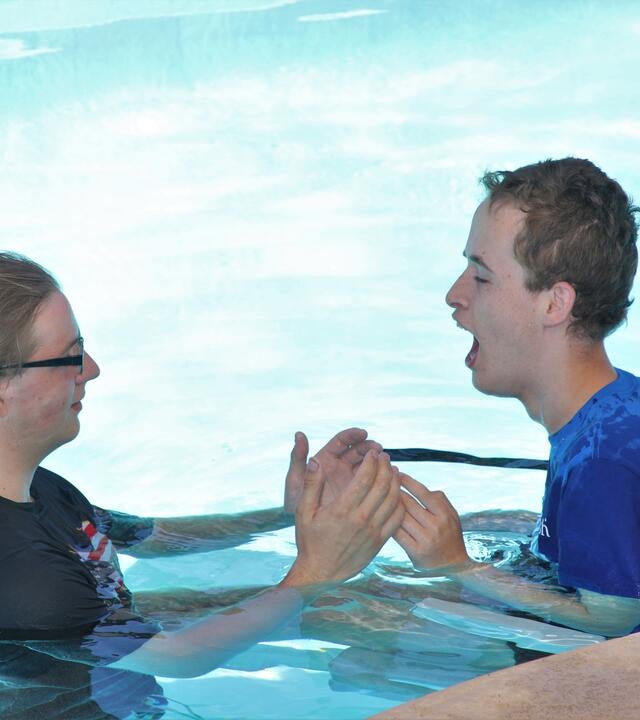 Kameryn's wish brings screams of laughter
This pool lift will help give him some freedom as he transitions out of high school. "- Stacey, Kameryn's mother.
When Kameryn, 18, hit the water of his pool from his "wish lift", his happiness was easily heard in his screams of laughter. 
And his laughter was not the only happy noise. It was echoed in cheers from the people who came together to help make his wish come true.   
Kameryn's cheering squad included not only his siblings and mother Stacey, but also the three men who came together to install the lift and train the family on how to use it. It was a small "party" within COVID-19 restrictions, but the biggest impact was Kameryn's happiness at his new wish to have a pool lift being granted. 
"Kameryn loves to be outside and while he is pretty much wheelchair bound, we do try to get him in the pool whenever we are in the water because he has such a good time in the water," said Stacey, Kameryn's mother.  
Kameryn, 18, was born with hydrocephalus and cerebral palsy, and lives with Lennox-Gastaut syndrome, a complex, rare and severe childhood epilepsy that is characterized by multiple and concurrent seizures. Yet, his conditions do not stop him from having fun with family and friends. 
"When the wish granter volunteers came out to speak to Kameryn, they were so nice and really talked to us about what would make him happiest," said Stacey. 
There were many options that were considered, but one thing that really would change Kameryn's life was a pool lift.  
"Kameryn is getting taller than me and while he can stand and bear weight on his legs, getting him in and out of the pool is difficult," said Stacey. "This will be life-changing for him and for us." 
To create this life-changing wish, Make-A-Wish Arizona reached out to the West Valley Mavericks, who often adopt wish kids from the West Valley to grant their wishes. Two members – Bob Stockley and Billy Parr jumped at the chance to help. 
Billy Parr is the owner of Monster Pool Company, one of the leaders in creating amazing pool experiences in the Valley. Bob Stockley is the owner of Commercial Pool Repair and is a recognized expert at creating handicap accessible pools.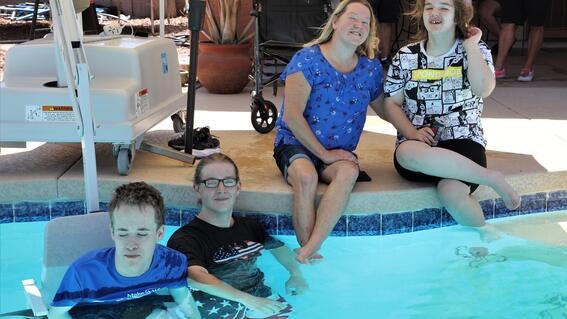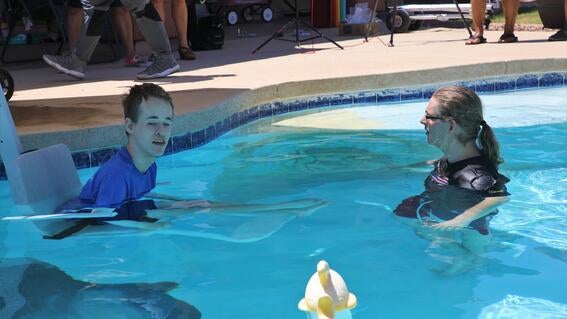 "This pool lift will help give him some freedom as he transitions out of high school."
Stacey
Kameryn's mother
"Helping our neighbors has been such a great feeling and to see what we can do for a child's life, that is priceless," said Parr. Parr has participated previously in four , but this one was different because this one also could involve his business.   
"While we don't install lots of lifts for residential pools in the Valley, I was happy to be able to reach out to Bob and other experts to make sure we could find a lift that would be perfect for Kameryn and his family," said Parr.  
Parr and Stockley found a lift that will enable Stacey to get Kameryn in and out of the pool safely, plus can be moved so that Kameryn can enjoy the deeper end of the pool as well as the shallow.  
"I love working on wishes but this one was special because I was able to meet the family and really work with them to create a wish that was specific to their needs," said Parr. "To be a part of the day and to see his face when he was in the water was priceless! I know this will be a wish that makes a difference for him and for his family." 
Stacey said that swimming helps Kameryn not only physically, by allowing him to be almost weightless and move his legs and arms without difficult, but also emotionally as it gives him time with his family when he can be just like them.  
"This pool lift will help give him some freedom as he transitions out of high school, into being an adult," said Stacey. "You can tell that he finds being in the water so peaceful, so energizing. 
"With Kameryn's many surgeries and seizures, we really live in the moment and try to spend as much quality time with him as we can because we know that tomorrow is promised to no one," continued Stacey. "This wish came just when we needed it most and will continue to create positive opportunities for Kameryn for years to come."