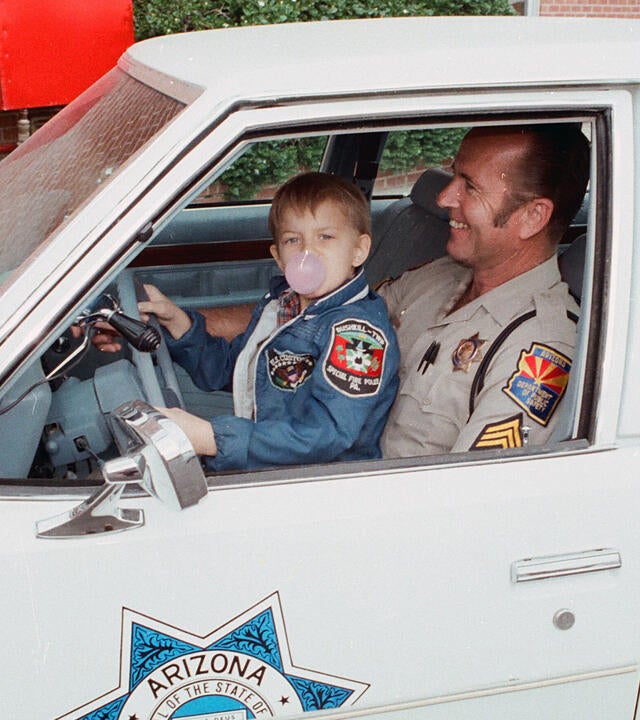 For 40 years, the Goss' have been giving to Make-A-Wish Arizona
Donors for 40 years share the impact of giving this holiday season
Tom and Mary Goss have been giving to Make-A-Wish Arizona since its beginning. 
"I remember hearing about Make-A-Wish when I saw a DPS officer talking on television about a little boy named Chris," said Tom. "I was moved by his story and how Make-A-Wish made him an honorary member of the Arizona highway patrol, so I wanted to help."
Make-A-Wish Arizona celebrates its 40th Anniversary this year, and we celebrate donors like Tom and Mary who have been giving these past 40 years. 
"I was a teacher and liked giving to charities that helped children," said Tom. "I thought it would be a good thing to get the kids at my school involved to fundraise for kids like them, so we raised funds for Make-A-Wish. Then, when I retired from teaching, I decided I wanted to give back each month personally as well." 
Tom and Mary continue to give year after year because Make-A-Wish remains unchanged in its mission – to grant life-changing wishes for children with critical illnesses. They also believe their gift is meaningful because Make-A-Wish Arizona helps kids in their community. 
"I try to give what I can. I think it's important to give back because I'm very happy with my life and doing well now, I feel so grateful to have the good fortune I've had," said Tom. In their four decades of giving, Tom and Mary's contributions have granted numerous wishes for kids in Arizona.
"I'm just an ordinary person who tries to do a little," he continued. "You get a lot more by giving. It's worthwhile and I'm sure there are a lot of kids that will benefit from it in the future."
Tom and Mary also enjoy receiving updates from Make-A-Wish Arizona about the local wish kids they are helping and hearing their stories.
"It inspires me to see the wishes we grant here in Arizona. I remember a girl who was sick and went to Lourdes, France. I believe these wishes improve the quality of life for a child who deals with something most people never have to suffer from," he said.
"It makes me happy to know we are making someone else happy," said Mary. "If you can help, you should, and I receive so much more knowing that I can make a child smile and help the parents raising that child. It fills my heart even talking about it. What's a greater gift than that?"