Volunteer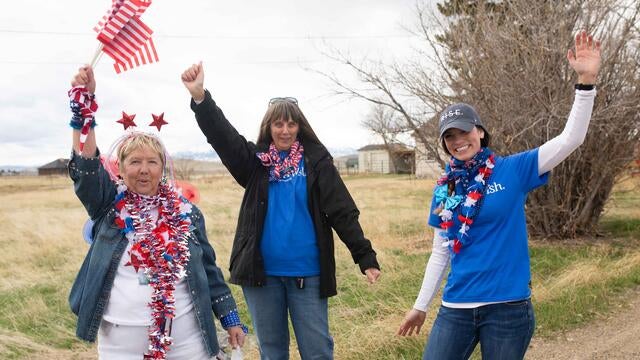 Join a caring community of volunteers who transform lives. Together, we can make countless wishes come true.   
Your time and unique talents are critical to bringing strength and hope to wish kids when they need it the most. In fact, our volunteers are at the heart of every wish experience.  
Whether you're in Casper, Cheyenne, Crowheart, Green River or any of the other communities in our state, we offer opportunities for you to make a difference for these children and their families. Volunteering is a great way to help. At Make-A-Wish® Wyoming, we value our volunteers and their time. We invite you to share the power of a wish, whether you can give a few hours each month or a few days each year. 
Everything we do at Make-A-Wish® Wyoming is focused on our mission: to grant the wishes of children with critical illnesses to enrich the human experience with hope, strength and joy. Granting these wishes is possible only with the dedication of our volunteers. 
And what can you expect from your experience as a Make-A-Wish Wyoming volunteer? You can make the impossible possible. You can change a child's life. You can change a family's journey. 
Here's how one of our volunteers – Sandi Riley of Cheyenne, a former wish mom – put it: "The joy I see when we can talk happy things is amazing. I do not bring pokes or X-rays, but instead I bring happy thoughts to dream about. My heart is so full after helping to grant a wish – full of happiness that I in a small way made all the rough times and bumpy roads go away for at least a bit." 
Types of Volunteers
We understand that you want to volunteer but might not know where your skills and talents best lie. Check out our volunteer opportunities and see where you can best help make wishes come true.  
Wish Granting
As a member of a wish team, wish granters meet with the family, help the wish child determine the wish and act as a liaison between Make-A-Wish staff and the wish family during the wish process.  Wish granters must be a minimum of 18 years old.
Medical Outreach
Every wish begins with a referral.  We work with medical professionals across the region to ensure wishes are possible.  Occasionally we will need assistance reaching these professionals and preparing correspondence for medical professionals.  
Office Volunteer
Assist with a variety of projects at the office, including phone calls, wish research, mailings, etc. Casper volunteers only. 
Translator/Interpreter
Help facilitate wish experiences for non-English-speaking families. Translators have the option of becoming fully-trained wish granting volunteers, or they can provide short-term support on an as-needed basis.  
Wish Ambassador
Speak at or support local community, school, business or civic events increasing awareness and support for Make-A-Wish Wyoming while educating audiences about the Make-A-Wish mission.
Your Make-A-Wish Journey Starts Today
Make-A-Wish® Wyoming relies on more than 60 volunteers throughout Wyoming to help grant the wishes of Wyoming children. 
Get started today and soon you can bring hope and joy to local children with critical illnesses as a Make-A-Wish volunteer.  
Our volunteer application process consists of a couple steps: 
1. Complete the volunteer application 
2. Complete a phone interview with the Volunteer Coordinator 
3. Complete the online National criminal background check 
4. Complete online training 
Are you ready to get started? E-mail [email protected] for a volunteer application or call our office at (307) 234-9474 with any questions about the volunteer program. 
Background Checks 
To ensure the safety of our children, we perform a national criminal background check on all of our applicants through First Advantage. All information in the volunteer application and any acquired through the background check, remains confidential and is used only for screening and placement purposes.