I wish to meet the Green Bay Packers
Hunter
16
lymphoma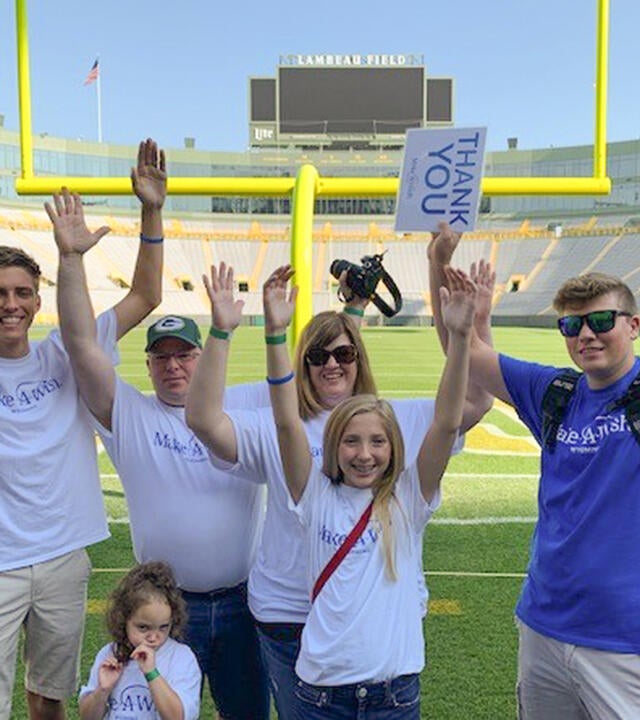 Wish kid Hunter had always been active, so when his neck and head started hurting one day, he and his family didn't panic.
He figured it was possible that he had strained something during a wrestling drill.
"After practice that day, my head hurt really, really bad," the Cheyenne teenager remembered. When the pain didn't stop, though, his mother grew concerned and took him to the local hospital. That's where Hunter and his family found out it wasn't just a headache. There was a mass blocking his airway, and the medical team would need to do more testing to figure out what it was. The news was bewildering.
"My mother and I just sat there in confusion, wondering what's going on," he said. Hunter was sent to Children's Hospital Colorado, where he was diagnosed with Hodgkin lymphoma. The diagnosis set off a whirlwind of confusion and chemotherapy – but it also meant that Hunter had the opportunity to answer an important question: If you had one wish, what would it be?
In Hunter's case, the answer was easy. Despite living in Wyoming, the teenager had been a fan of the Green Bay Packers all his life, thanks to having family in northern Michigan. "When you're from up there, you either like the Detroit Lions or you like Green Bay, which is the best team in the NFL," he said.
When it was time for his wish to be granted, Hunter and his family rode in a limo to Lambeau Field, the Packers' iconic home. They visited the Don Hutson Center, an indoor practice facility that many fans never see. Inside, Hunter met the athlete he calls "the greatest of all time:" Packers quarterback Aaron Rodgers. It's a moment his mom, Nicki, will never forget.
"As [the players] were going by the practice field, they ran by us and shook hands or high-fived all of my family," she shared. "Then we got to go over and watch practice. At the end of practice, Aaron Rodgers came over and put his hand on Hunter's shoulder and asked how he thought practice went." But Hunter's interaction with the Packers didn't end there. He enjoyed lunch with Rodgers and other players, joined the huddle at a practice, ran through a tunnel formed by the players and received autographed gear. In one unforgettable moment, he was allowed to touch the precious grass at Lambeau.
He and his family wrapped up their time in Green Bay by attending a game against the Denver Broncos.
"The game was great," Hunter said. "The opportunity was amazing, to meet the Green Bay Packers with my family. I couldn't ask for anything else. I would like to thank Make-A-Wish for all they have done for me and my family, and a big thanks to all the supporters who helped give me this opportunity."