I wish to have a swimming pool
Matthew
7
cystic fibrosis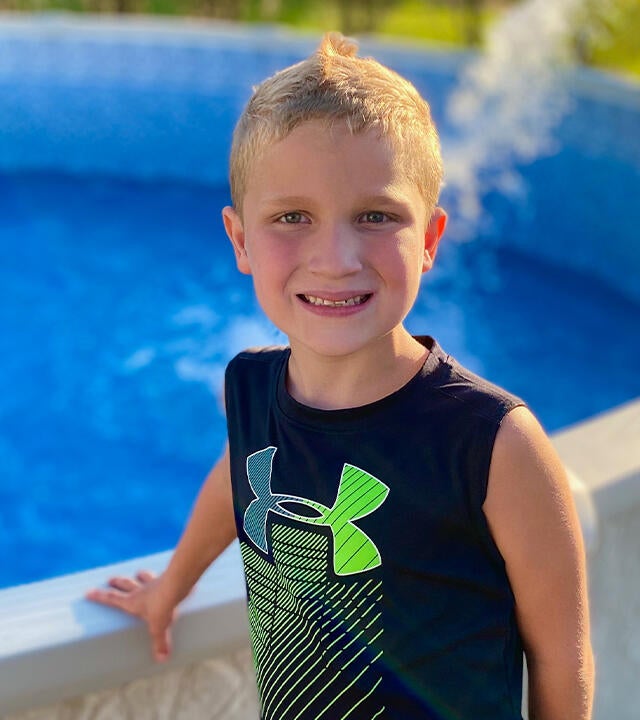 Matthew's passion for swimming inspires his wish
Matthew is a 7-year-old living with cystic fibrosis. Every day, he spends 1½-2 hours doing breathing and vest treatments to clean his lungs, and he gets most of his nutrition from a feeding tube. He also takes a lot of medication each day to help his body digest and work more effectively.
"When Matthew gets sick, his body has to fight really hard, and that means extra treatments and antibiotics," says his mom. "Usually twice a year, he can't recover on his own and needs to be hospitalized at Children's Wisconsin for 10 to 14 days of IV antibiotics."
Despite the challenges of living with cystic fibrosis Matthew developed a passion for swimming. When Matthew learned he was eligible for a wish, he made a wish to have a swimming pool to bring his passion home. Recently, Matthew's wish to have a swimming pool was granted. On a 90-degree Saturday, Matthew and his family rang in the summer by making a splash in their new 24-foot above ground pool with a heater. "My new pool is awesome!" Matthew said. 
"I wished for a pool because I love to swim and having a pool in my backyard means I can go swimming all the time!"
Matthew
Wish kid
I don't need to go someplace else to swim and my friends can all come over and swim with me," he continued. Along with the pool, Matthew's volunteer wish granters threw him a parade to celebrate his wish coming true with friends, family, and members of the community.  
"Two police trucks led the parade with their sirens, then came an ambulance and a big ladder firetruck. One of the policemen gave me a stuffed dog. I have a gigantic stuffed dog collection, so this was very exciting."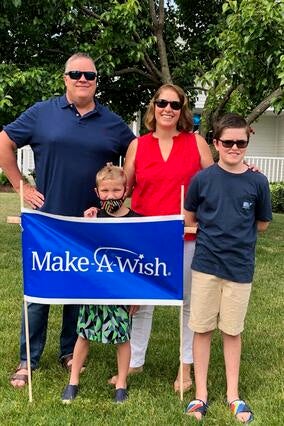 Matthew and his family are looking forward to using the pool as much as possible and getting to spend more time together as a family. Matthew's mother, Laura Drummond said, "As a parent, it's hard to watch your child spend several hours a day doing treatments just to stay healthy. Cystic fibrosis steals so much time. Having a pool will allow Matthew to do something he loves without requiring any travel or setup time. It's also a safe environment for our boys during these scary times. Jack and Matthew have a lot of friends, and now we have even more reasons to invite them over. Matthew is convinced that he can swim almost year-round because the pool has a heater!" 
Wish Granters: Sue and Steve Shea 
Sponsors: Maggie's Angels - Burn 4 Wishes, Kurt & Kathleen Kellogg and WUCA