September 2 - December 31, 2020
Bucky Book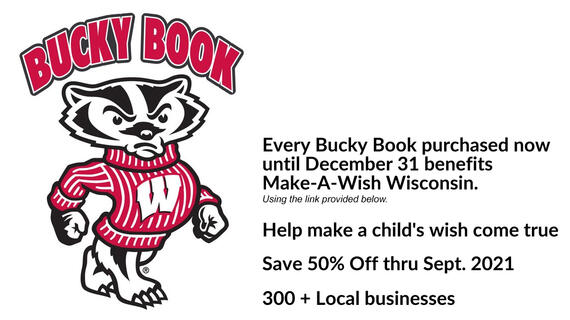 You have an opportunity to make wishes come true for more than 430 children currently waiting to have their wished granted, including more than 100 wishes that have been delayed due to COVID-19 and our utmost concern of the health of the children we serve. A wish provides hope during a time in child's life when there is so much uncertainty.
When you purchase a Bucky Book proceeds from the sale of each book sold through December 31, 2020 will go directly to Make-A-Wish Wisconsin which will help fund children's wishes that are waiting to be granted. 
Valid thru September 2021
Hundreds of 50% OFF coupons for golf, groceries, pizza, fast food, coffee shops, oil changes and more.
Save $ while supporting Make-A-Wish Wisconsin!
SUPPORTING OUR COMMUNITY! With every purchase, Bucky Book will donate a book to our local front line and essential health care workers. Now you're supporting two great causes!
Please allow a few weeks for the delivery of your Bucky Book 29 due to overwhelming response and USPS delays. Thank you in advance for your support! Your participation will make a BIG difference for our organization in getting through this difficult time.
For 28 years Bucky Book has helped hundreds of organizations raise money for their causes and we are pleased to have their support. Your participation in this online, no-contact campaign can help us continue our good work while keeping everyone safe. Redeeming just two coupons between October 1 and September 20, 2121 will cover the cost of one book and help out our local businesses.