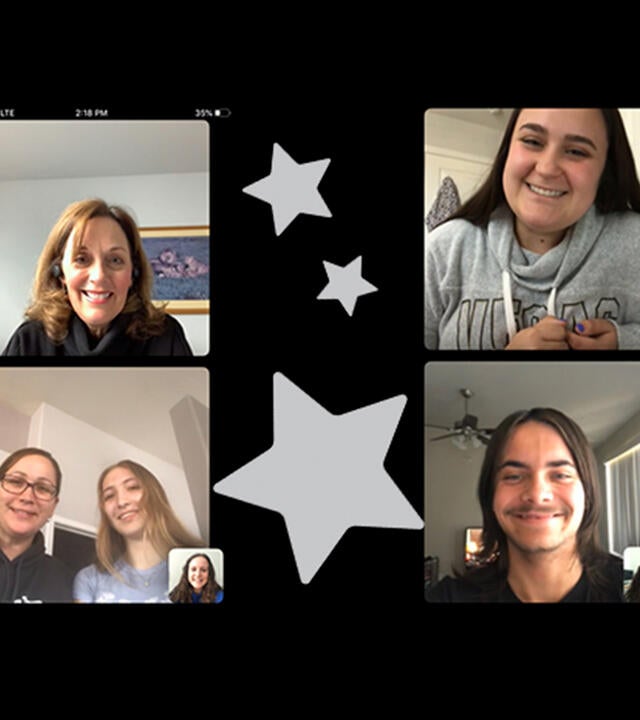 Wish Discoveries: Virtual Edition
The Make-A-Wish Southern Nevada team has been working diligently to keep hope alive throughout this uncertain time by conducting virtual wish discoveries. Our wish kiddos can keep wishing, no matter the circumstances. 
The healing power of a wish starts when a child learns their wish is coming true and continues to work as they anticipate their wish. The MAWSNV team conducted their first virtual wish discovery and it was a huge success! Meet Elizabeth, also known as Liz to those who know and love her. She was originally referred and qualified for a wish back in 2010 when she was only six years old. Elizabeth and her family were not ready to choose a wish at the time, as Liz's father was serving in Afghanistan. Now, flash forward to April 2020 – Liz's condition, cystic fibrosis, still qualifies, and she is ready for a wish! 
During this virtual wish discovery visit, Liz came to the table with the following ideas: a car makeover, Hawaii, Greece, and Costa Rica. 
After discussing all her ideas, Liz left her wish discovery meeting with a wish determined – to go to Costa Rica. She expressed that she is looking for outdoor adventure in her wish. Liz has never been out of the country and has always dreamed of visiting a visually stunning place such as Costa Rica. She is interested in going kayaking, swimming, snorkeling, and hiking while on her wish trip. Liz also imagines doing outdoorsy activities with her family, seeing beautiful waterfalls and trees, and laying on the beach with a good book. 
Though virtual, this wish discovery still proved to be impactful. Liz's mom, Sheila, spoke highly of the experience and thought this was a great way to engage wish kiddos, especially the older kiddos who are already very connected to their phones and technology. 
A second virtual wish discovery was conducted via FaceTime with wish kid, Zachary. Shy at first, 18-year-old Zachary quickly warmed up as he chatted about his favorite things and hobbies. Both Zachary and his sister had a kidney transplant, and his sister had her wish granted to go on a Disney Cruise in 2006 with MAWSNV. Knowing firsthand the power of a wish, he was excited to share some of his wish ideas which included going to Bora Bora, on a European trip, or Maui Hawaii. After some discussion, Zachary determined his wish to go to Maui, Hawaii! 
He imagines a relaxing experience for the whole family, and a nice break from day-to-day life. The most important parts of his wish include: ziplining, seeing the black sand beach, taking a day trip to Pearl Harbor, and trying fresh seafood. Zach has always talked to his family about going to Hawaii someday, and now with our help, he can live out his wish. 
Now more than ever, wish kids need to stay hopeful. Virtual wish discoveries have been a great way to connect with wish kiddos, instill some hope and give wish kids and their families something to look forward to. It's a thrill to be able to continue the Make-A-Wish mission because there are kids who still need and deserve a wish!