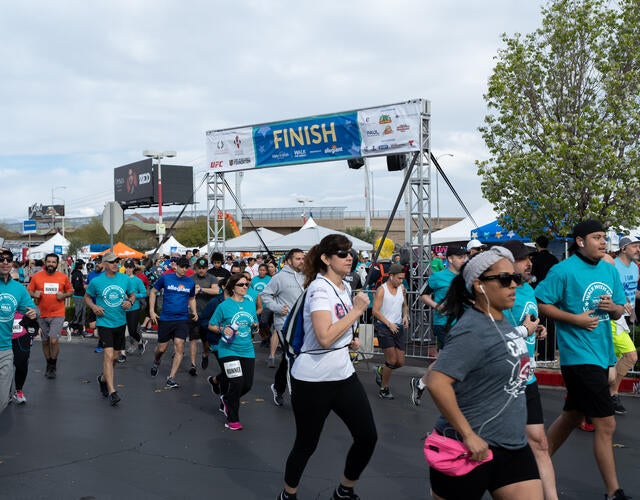 Walk with Me. Wish with Me.
May 28, 2020
On a sunny Saturday morning, thousands of community members came together to support children battling critical illnesses at the annual Walk For Wishes. 
As we fondly look back on the times we could celebrate together, we can hardly believe that it was only a few months ago that Las Vegas community members gathered at Town Square Las Vegas to make wishes come true. 
On this sunny Saturday morning, everyone rose out of bed early, tied their shoelaces and grabbed their families and friends in preparation for Walk For Wishes®, a nationwide Make-A-Wish® fundraiser that celebrates the more than 315,000 wishes that have already been granted - more than 2,100 in Southern Nevada alone! - while raising funds for future wishes. 
This year, we kicked off the event in a new location, with more space for all the fun activities and attractions for our wish families, community partners, donors and supporters to enjoy. Everyone gathered by the stage as wish alum, Kristen, sang the National Anthem. The event's long-time emcees, Kim & Dana Wagner, from KSNV News 3, and Mix 94.1's Mercedes and JC, took the stage to share their own heartfelt experiences with Make-A-Wish and how their lives have been touched by our wish kids. Their inspiring stories shared the power and importance of a wish and the community support to make them reality.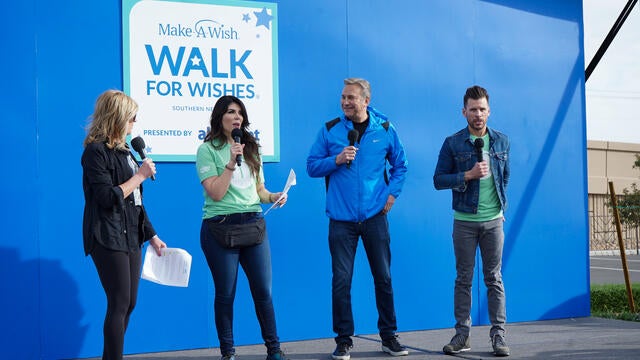 As if the crowd wasn't excited enough already, Make-A-Wish Southern Nevada's President & CEO, Caroline Ciocca, was introduced on stage to emphasize that a wish has a ripple effect on the Las Vegas community and their support of our event that day will help us continue to grant the wishes of every eligible child in the future. 
"Today is about the wishes we've granted and the wishes we will continue to grant. I have no doubt with a crowd like this, this organization is powered to do so much for so many kids who
Caroline Ciocca
President & CEO, Make-A-Wish Southern Nevada
The real stars of the show, our Wish Kid Ambassadors, Daniel, Doron, Charlotte and Kahina were introduced on stage. Representing the stages of the wish process, Daniel is a longtime wish alum, having his wish granted nearly 30 years ago, and the effects remain a part of his life today. Doron's wish was granted last summer and his life-changing wish experience is fresh in his mind. Charlotte recently had her wish revealed and Kahina had just discovered her wish. 
As the wish ambassadors were interviewed one-by-one, a special surprise was saved for last. When Mercedes asked Kahina about her wish, she looked out into the crowd where her family excitedly waved posters that read: YOUR WISH IS COMING TRUE. Kahina and her family were destined to go on a Disney Cruise Line® Cruise and her shocked delight touched everyone's hearts. 
The ceremony concluded and after a quick warm-up, the walkers and runners headed for the starting line! Dressed in team shirts, waving pompoms and posters, and walking their four-legged friends, the participants made their way through the course while being cheered on from the sidelines by volunteers. After crossing the finish line, princesses, superheroes, police officers, fire fighters and mascots were waiting to celebrate a successful Walk! 
The fun continued as the crowd made their way over to the wish zones for special activities, booths, food, and giveaways provided by our amazing community partners, including presenting sponsor Allegiant. Kids and parents delighted in an obstacle course, petting zoo, painting station, balloon animals and more! 
"As Make-A-Wish continues to grow in the community, both in awareness and support, people are really getting behind the cause and understanding just how valuable the organization is and what kind of impact it creates on a lot of lives in the community," said Make-A-Wish Southern Nevada's Board Chair, Jon Wolfe. "It's really great to see this kind of turnout for such an event. It's amazing!"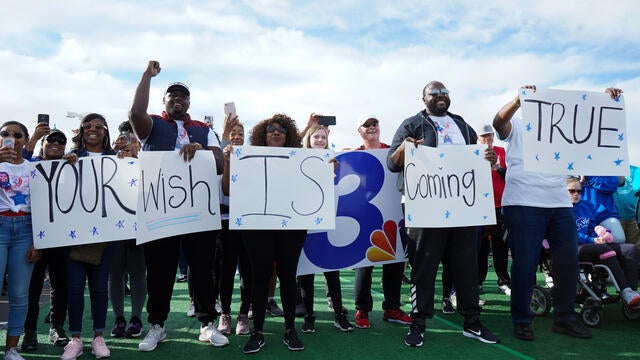 Thank you to the amazing community partners, wish kids, volunteers, staff, and attendees who made this event possible. Because of you, we succeeded in raising almost $500,000 to continue to grant wishes for every eligible child in Southern Nevada. 
Thank you to our Event Sponsors:
Allegiant
Caesars Entertainment 
House Advantage 
UFC 
Vegas Golden Knights
The Cosmopolitan of Las Vegas | MoneyTree | Southwest Medical Part of OptumCare | The Powell Law Firm | Roberto's Taco Shop | VideoPoker.com
KSNV News 3 Las Vegas | Mix 94.1 | Reagan Outdoor | Las Vegas Review-Journal | Telemundo 
CDW | Raising Cane's Chicken Fingers | United Healthcare | Williams-Sonoma | Everi | Somerpointe Resorts
Ahern Rentals, Audio Visual Advisors, Balloons With A Twist, Bark-André Furry, California Pizza Kitchen - Town Square, Captain Jack of Hearts, Cashman Photography, Clark County Fire Department, Community Ambulance, Color Reflections, CPR Tent & Events, Critical Care Comics, Creative Digital Imaging, First Class Vending, Heartfelt Productions, I Luv Cotton Candy, The JGS Group, Kona Kope Hale, Las Vegas Aces, Las Vegas Avengers, Las Vegas Metropolitan Police Department, LVMPD ARMOR, LVMPD K-9, LVMPD Mounted Unit, LVMPD SWAT Team, LV Cosplayers Alliance, Lazy Dog Restaurant & Bar, Master of Barricades, Miller's Ale House Ninja Nation, Party Ever After, Petting Zoo 2 U, Pinkbox Doughnuts, Pinot's Palette, Rebel Legion, Republic Services, Smithman Productions, Sin City Scenic, Social Snap Photo Booth, Style Pasifika, Town Square Las Vegas, United Site Services, UNLV Cheer, UNLV ROTC, VegeNation, Wynn Night Life, Yard House – Town Square