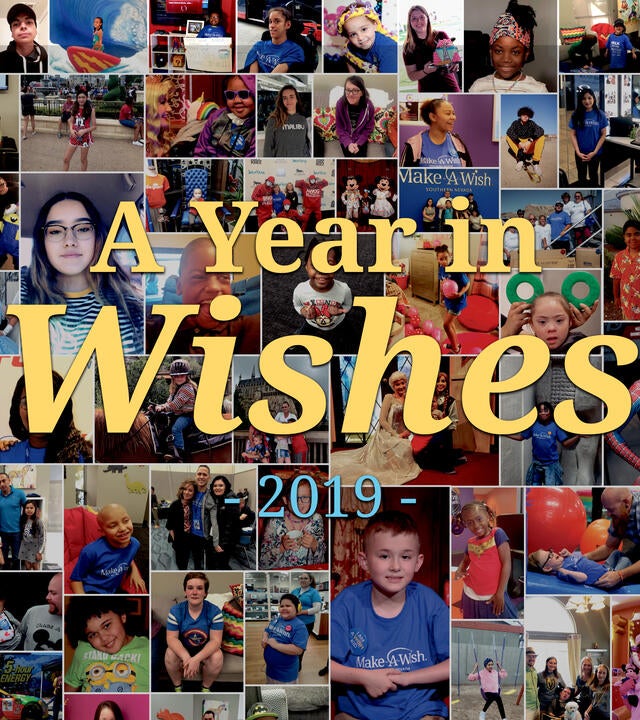 As we usher in a new year, it's a time for reflection and gratitude – a reflection on the hard-earned growth we've achieved in the last 12 months and gratitude for our community who rallies together to help us further our mission. At times, 365 days can feel like an eternity, but while working towards creating life-changing wishes for children with critical illnesses, those days can pass in the blink of an eye. 
In the span of a single year, Make-A-Wish Southern Nevada transformed the lives of 158 wish kids, exceeding last year's chapter record of 143. For 158 families in our community, 2019 was a year of hope, joy and confidence. It was the year when their children who surmount unimaginable emotional and physical challenges, finally got to act like kids again by meeting, being, having, or going somewhere their heart desires. 
These children are well-versed in hospital visits, treatments and doctors' visits to keep their bodies healthy, but a wish provides them with the emotional medicine they need to build mental strength and hope for the future. We saw the proof in Doron's smile while meeting the Vegas Golden Knights, in Emma's squeal of delight as her wish to go to a dude ranch was revealed, and in Destiny's growing confidence from her wish trip to Walt Disney World® Resort. Disney wishes were by far the most popular, with 60% of our kiddos wishing to go to a Disney resort. 15 kids met their favorite celebrities and 22 were treated to shopping sprees. 
We partnered with longtime supporter, UFC, to host the largest wish reveal on World Wish Day in April. Bruce Buffer used his iconic voice to announce to 12 unsuspecting kiddos that their wishes were coming true in front of an enthusiastic crowd of cheering UFC employees. 
Our two major fundraising events, Walk For Wishes and Fashion Luncheon, continued to grow and succeed beyond our wildest dreams. In March, we gathered in Town Square for a morning of exercise and inspiration. This year, the Walk For Wishes not only raised more than $480,000, but participants witnessed Faith's shock and excitement as her wish to go to Walt Disney World® was revealed. In November, our Fashion Luncheon also had record-breaking success when a group of nearly 200 Las Vegas community members raised over $1.2 million in one afternoon. 
The power of a wish has a ripple effect that starts with the wish kid and extends to family, friends, and the community. It takes a village to grant a wish and I hope that everyone has a chance to experience the magic of witnessing a child's wish come true. In 2019, our Make-A-Wish family continued to grow through our dedicated staff, community partners, board members and volunteers. With the passion, creativity and commitment of our community, we will continue to work until every eligible child's wish in Southern Nevada is granted! 
Walk with Me. Wish with Me. 
Registration is now open for the 2020 Walk For Wishes. Mark your calendar for March 7, 2020, and setup your team page today at WalkForWishesSNV.org. 
Become a Volunteer 
Achieving our mission would be impossible without the help from our volunteers. We have a variety of volunteer opportunities for every area of interest, skill set and availability. Register to learn more at our next Volunteer Orientation. 
Donate 
Your generous contribution has a lasting effect on a child battling a critical illness. Find out how you can help with different ways of giving. 
Thank you to everyone who helped to transform the lives of 158 wish kids this year. I have high hopes for 2020 and can't wait to see where this year will take us! 
Caroline Ciocca
President & CEO, Make-A-Wish Southern Nevada