Wishmakers on Campus®  
Join our Wishmakers on Campus® program, a fundraising program designed for college organizations, such as student governments, athletic teams and Greek organizations, interested in contributing some of their time and energy to help grant the wishes of children with critical illnesses.  
 
Wishmakers On Campus allows college-age students to rally together to plan and coordinate fundraising campaigns and help those closest to them: former classmates or other kids in their community. Local students do it all – organize, raise funds and manage their program with support from parent or teacher advisors. This hands-on experience allows them to see first-hand how they can impact a child's life by helping grant their wish. 
Here's your chance to have tons of fun by helping to make dreams come true for kids with life-threatening medical conditions. As a Wishmakers On Campus volunteer, you can partner with Make-A-Wish and coordinate a fundraiser at your school to help sponsor wishes for wish kids in your community. But before you launch a fundraiser, be sure contact our office for event approval. 
Through the program, your group can: 
Increase awareness of the Make-A-Wish® mission 
Foster the value of community service 
Create school spirit 
Empower students to be actively involved in helping to grant wishes to courageous children 
Provide partnership opportunities between students, school and community 
Experience the joy of helping a child 
The program includes fundraising ideas and objectives to simplify the planning process. Your group simply adds your own creative touch to existing ideas or create a project of your own. 
For a Wishmakers On Campus Fundraising Packet, click here. 
For 10 real Wishmakers On Campus examples, click here.  
If you'd like to learn more about the Wishmakers On Campus program, please contact: 
Southeast Florida Region: Miami-Dade, Broward, Palm Beach, Martin, St. Lucie, Indian River, Okeechobee, Monroe, Highlands 
954-967-9474  
[email protected] 
Southwest Florida Region: Collier, Hendry, Lee, Glades 
239-992-9474 
[email protected]
The Delta Upsilon chapter at the University of Miami hosted a "Wish Week" to benefit Make-A-Wish Southern Florida. Events they hosted as a sorority included a dodgeball tournament, a lip sync battle and a bake sale!  Their spirited efforts raised an incredible $13,000 to grant children's wishes.  
Barry University was one of the top fundraising schools in the Nation last year as part of our National Partnership with the NCAA Division II. Barry University hosted multiple fundraisers and adopted a wish. During their homecoming game they hosted a wish reveal for Jonathan who wanted to have professional DJ equipment! It was a tremendous show of support to make wishes come true. Barry University raised more than $5,000, enough to grant a child's wish.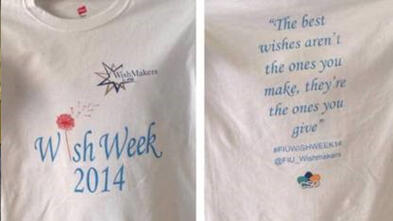 The students at Florida International University held a week of activities to bring awareness and raise funds to grant more wishes for our wish children. During this week they held a lantern release event, cook-off a Wish Ball where former wish child Marina was in attendance. These events raised a total of $1,900!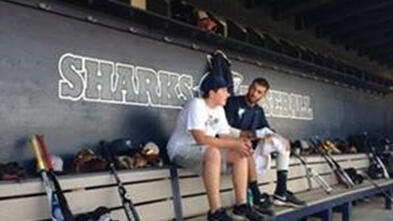 As members of the NCAA Division II the students of Nova Southeastern University held Shark Night at one of their home baseball games. Wish stars were sold and wish child Matt practiced and threw the first pitch of the game!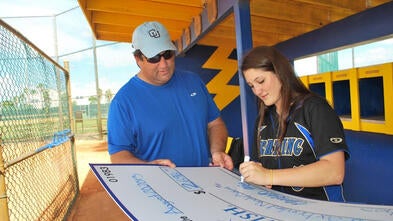 Olivia and Maddie Gott became wish partners by raising money in a very unique way. This past softball season they played for Cypress Bay High School and asked all their friends and family to make pledges to Make-A-Wish Southern Florida for each hit they got over the season. With the support of the community, the Gott sisters raised $2,696! 
Alpha TAU Omega at Florida Atlantic University hosted TAU Cuts to benefit Make-A-Wish® Southern Florida. The members of this Greek society joined with other Greek families to place bids on each other's heads. Members auctioned off their hair for a $25 minimum. The winning bidder was allowed to cut that member's hair any way he or she liked. This event raised $3,700, enough to become a wish partner in granting a local child's wish. 
Barry University hosted their annual Bowling For Wishes event followed by a softball tournament where one of our local wish children threw out the first pitch. With the help of Jamie Carrig and the hard work and dedication of the School of Human Performance and Leisure Science, Barry University was able to raise more than $10,000, to grant the wishes of two very deserving children. 
The Student Government team at JP Taravella hosted a Be A Genie, Grant A Wish event where genie lamps where placed in all classrooms for donations. Students dressed up as genies to ask for donations. They also held a dodgeball tournament and sold chocolate. In all, they raised $1,800 for Make-A-Wish!