I wish to meet Imagine Dragons
Sebastian
10
cystic fibrosis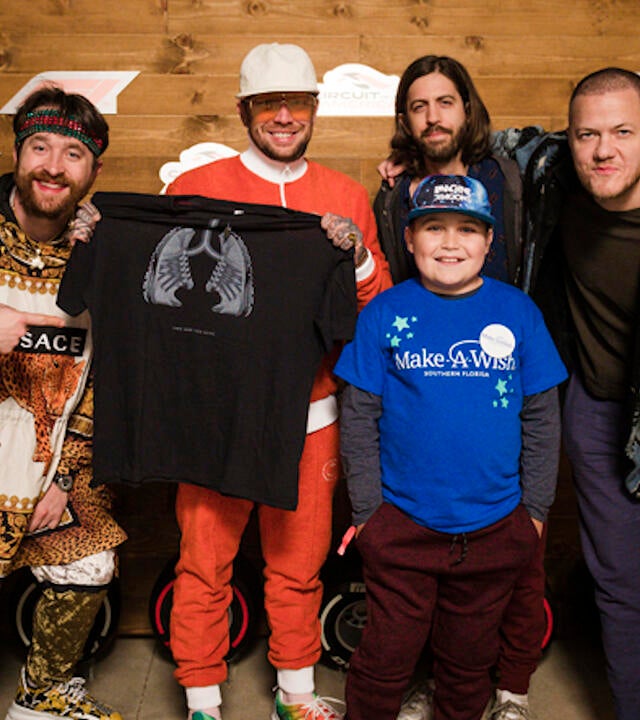 Sebastian's On Top of the World
The first time Sebastian heard "Thunder" on the radio, he was hooked on Imagine Dragons.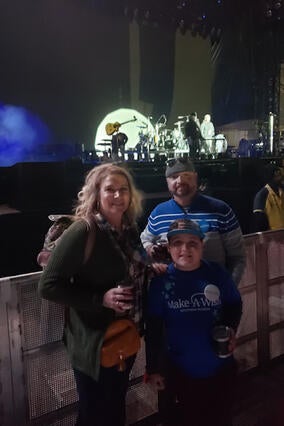 The song would play on repeat. And when the Imagine Dragons came to Tampa, Sebastian was ecstatic to attend the concert from lawn seats. It was in that moment, jamming to his favorite band, that Sebastian decided his wish would be to meet his musical idols. 
The VIP treatment began with a limo to the airport, and a special announcement about him aboard the airplane. Sebastian's celebrity status was further solidified when an airport greeter welcomed him and family to Austin, TX. 
He couldn't sleep the night before his big day, and the anticipation only grew as he rode in a limo to the concert. Sebastian's nerves were calmed when the band's manager told him the band was a little nervous to meet him too. The moment he long imagined did not disappoint! Sebastian and the band embraced each other with smiles, hugs and conversation. Sebastian gifted the band members with "Rock CF" shirts because he wanted to give back to the band that means so much to him. Afterward, they jammed to all his favorite hits at the concert, with seats in arm's reach of the stage. Sebastian said the whole experience was "infinity out of ten."  
It was all about Sebastian and what he wanted. It was amazing.
Sebastian's Mom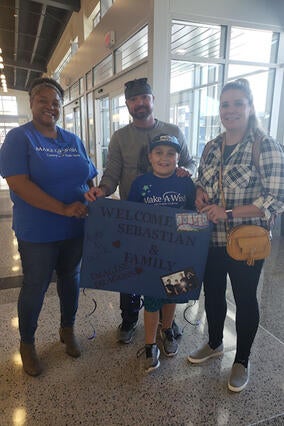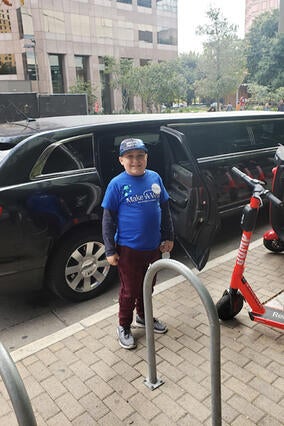 Sebastian rounded out his time in Austin with visits to the toy museum, a haunted hearse tour, Formula One car race and a trip to the LEGO store. Every day was such an adventure that Sebastian didn't want to go anywhere for dinner, he only wanted to order a burger and fries from room service, so that's what his family did.  
Sebastian considers this trip the best trip he's been on, and he's been to many places around the world. Sebastian's mother said, "He never complains about anything – his treatments, so many blood draws. He's missed out on so many things because of his illness. This wish - he didn't hear the word no at all. Anything he wanted to do or to eat all week – it was all about Sebastian and what he wanted. It was amazing." 
Wish Granters: Richard & Carol Morgan 
Referred by Amanda Harris, his mother 
Wish adopted by Ms. Sheri Jessell