5000th Wish - Austin Gets His Badge
In 2004, Make-A-Wish® Southern Florida granted its 5,000th wish...
...as 7-year-old Austin from Margate, clad in a custom made police uniform, sunglasses, handcuffs and a name tag that read "Deputy Austin Farmer" was sworn in as an honorary deputy and the youngest member of the Broward Sheriff's Office Motorcycle Unit. 
Austin, who battles hemophilia, arrived for his first day on the job in a white limousine, surrounded by a 12-vehicle motorcade composed of eight Broward Sheriff's office motormen and two Harley Davidson drivers. There, he watched as motormen weaved through cones and performed practice maneuvers, and even got to ride a motorcycle for the first time.
My wish means that you shouldn't give up.
Austin
wish kid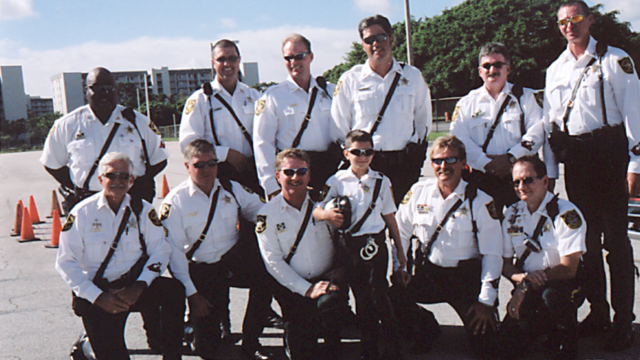 I wish to be a motorcycle policeman
Austin, 7
hemophilia
The day was filled with gifts and excitement, and at the end, Austin left with an official Harley-Davidson leather jacket, law enforcement hats from around the country and a plaque recognizing him for his work at the Sheriff's office. Chili's provided lunch for Austin and his family.  
More than 10 years later, Austin is now a teenager. He remembers his wish as a big moment that he felt so good to share with his family. He said, "My wish means that you shouldn't give up. There is help and you don't have to give up on your dreams." 
His grandmother sald, "I felt overwhelmed. I felt like that was the best thing that could ever happen to him. Everybody was so nice, and it was quite a spectacular day. I think he loved all the attention, and he loved all the bikes and the policemen and the pictures. I think he enjoyed all of it."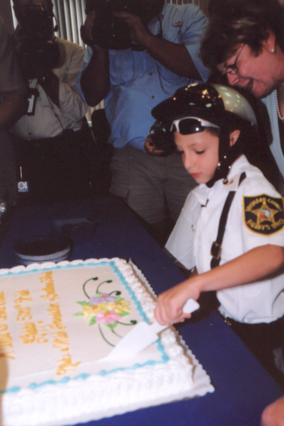 Wish granters: Cindy Baumgarten & Mindy Brown  
Referred by Cindy Zehnder, social worker  
Wish granted in honor of Jared Malnik