I wish to go on a shopping spree
Keisha
14
heart condition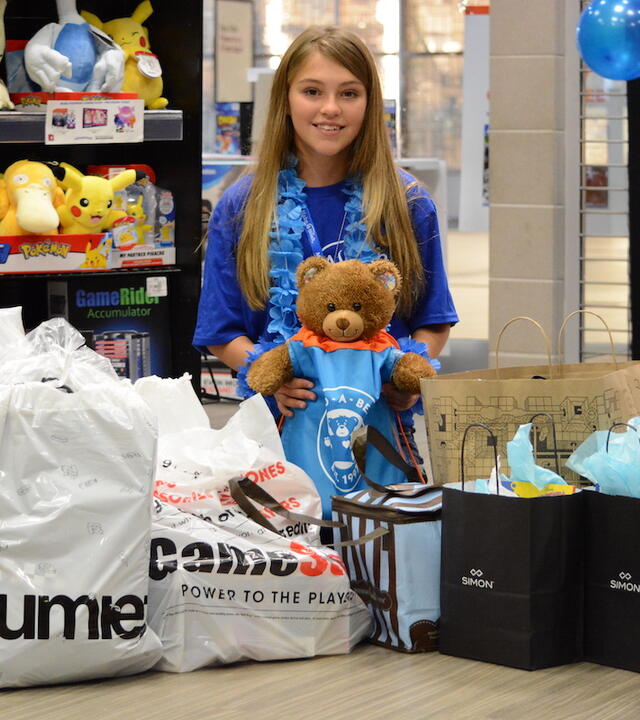 Keisha's Shopping Spree Wish
Keisha is a 14-year-old girl who has been battling a heart condition since before she was even born.
Keisha's shopping spree provided a chance to do something that would make her happy. When she wished for a shopping spree, she knew she would be able to get a few items on her wish list. What she didn't know was that there would be so many more surprises sprinkled throughout her wish trip, making her wish even more magical than she imagined it would be! 
14-year-old Keisha's medical story started before she was even born. When Keisha's mom, Billie Jo (or BJ), was just five months pregnant, Keisha was diagnosed with a heart defect. At only five days old, Keisha would have her first heart surgery. Her heart condition is what qualified her for a wish. 
BJ shared that when she first found out that her daughter would be receiving a wish, she "felt so overjoyed for Keisha." She described Keisha as a "very kind, giving, and loving person." It was time to grant this deserving, strong girl a wish. 
Keisha had a blast the whole time. Make-A-Wish was the most amazing experience ever. It really makes you feel special, and it's a once-in-a-lifetime experience.
Billie Jo
Keisha's mom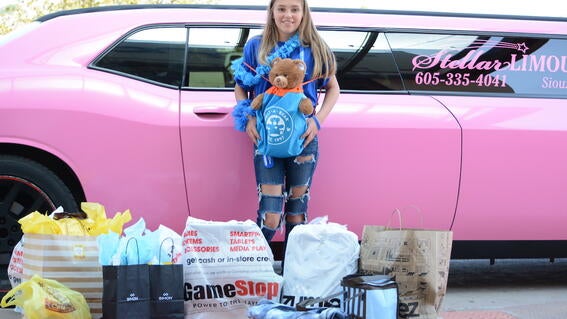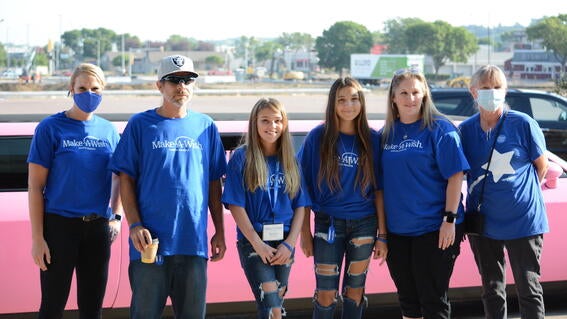 When the wish granters first met with Keisha and her family in their Rapid City home, a shopping spree was not quite on Keisha's radar. However, after the COVID-19 pandemic hit, Keisha began to rethink her options, as she was excited to have it granted soon and did not want to let Coronavirus get in the way of her wish. Social distancing means a lot of time spent at home, and Keisha thought it would be great to have a few new electronics to keep her entertained and some new items to help transform her bedroom into a relaxing, fun space. Keisha decided that Sioux Falls would have all the stores she needed to check off all the items on her wish list! 
On a Friday morning in August, Keisha and her family began their journey out to Sioux Falls. The fun started at Great Shots with dinner and golfing, generously donated by Great Shots. BJ shared that this was one of the highlights of the weekend—a sneak peek of the rest of the excitement that was yet to come! 
The adventure continued bright and early on Saturday morning when a hot pink limo from Stellar Limousine rolled out a red carpet before bringing her to the first stop of the day—the Empire Mall. "I like that the mall opened early for me," Keisha said. The Empire Mall worked with Keisha's chosen stores to open early, providing her with both a VIP experience and healthy shopping conditions.  
First on Keisha's list was Build-A-Bear. Here, she got to pick out her own bear, stuff it, choose an outfit, and even put in a voice box inside the bear with a message of her choice. Keisha chose to use an old voicemail from her grandma who passed away several years ago and wanted to gift the bear to her grandpa.  
Keisha's next stops were Zumiez and GameStop. Two of her wish list items were a longboard and an Xbox One, which she was able to purchase at these two stores. She also bought her stepsister a longboard, so they could ride them together. The Xbox will provide hours of entertainment for Keisha and her family and friends.  
I would like others to know that [Make-A-Wish] is a super cool foundation to be a part of. They make your wish ten times better.
Keisha
wish kid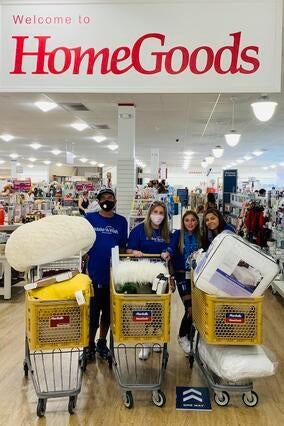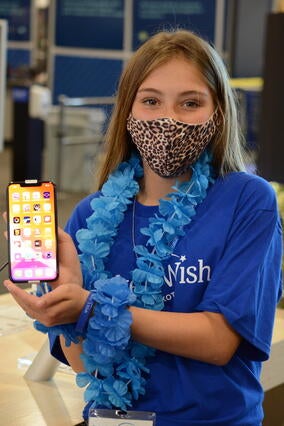 After working up an appetite from all the shopping, lunch at Applebee's was a must! Applebee's generously donated lunch as well as blocked off part of the restaurant for Keisha and her family. The last stop at the mall was to grab a sweet treat provided by Nestle Toll House Café! 
With stomachs full and energy renewed, the shopping continued at Best Buy. Here, Keisha was greeted by Best Buy Staff and a giant sign welcoming her to the store. She had her own personal shopper, who loved to dance and knew just where to find everything that Keisha wanted. He helped cross off the number one item on her list—a new iPhone. Seeing Keisha's reaction to her new phone was a highlight of the weekend for Keisha's mom, BJ. BJ shared that it was so nice "seeing Keisha so happy and treated like she was a VIP."  
The final store Keisha chose to shop at was HomeGoods. It was here that she was able to shop for new items for her room and spend the rest of her money. After a long day of shopping, it was time for the limo to take Keisha and all her shopping bags back to the hotel. The night and trip ended with dinner at Carnaval Brazilian Grill. According to BJ, "Keisha had a blast the whole time. Make-A-Wish was the most amazing experience ever. They really make you feel special, and it's a once-in-a-lifetime experience." 
Keisha will eventually need both a liver and a heart transplant sometime in the future. Keisha and her family are thankful for the momentary escape her wish provided her with. "That was the funnest trip I went on. I can't tell you how thankful I am," Keisha said. "I would like others to know that [Make-A-Wish] is a super cool and fun foundation to be a part of. They make your wish ten times better." 
Wishes aren't possible without the help of many. We'd like to thank the following businesses for helping us make Keisha's wish come true: Great Shots, The Empire Mall, Build-A-Bear, Zumiez, GameStop, Applebee's, Nestle Toll House Café, Best Buy, HomeGoods/Marshalls, Carnaval Brazilian Grill, ClubHouse Hotel & Suites, and Stellar Limousine.