I wish to have a gaming playhouse
Judson
9
heart condition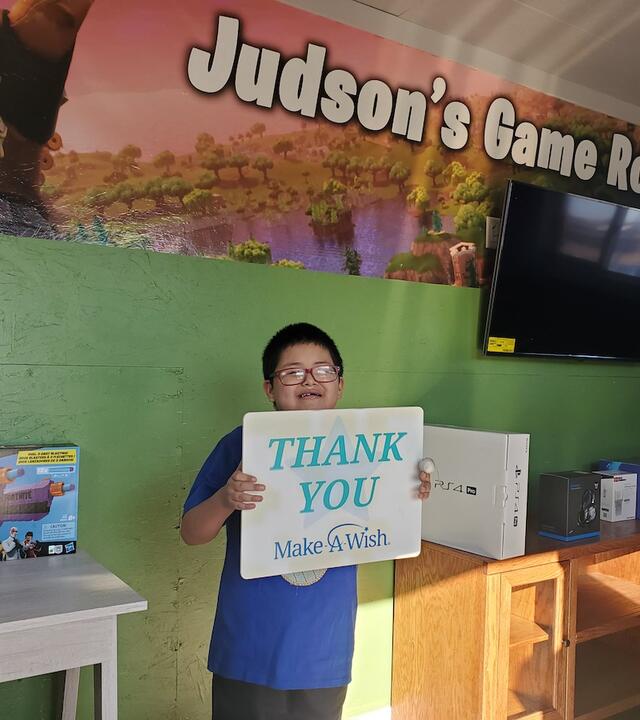 Despite struggling with a serious heart condition for most of his life, 9-year-old Judson shows his strength, perseverance and joy to all those he meets.
His new playhouse, equipped with video games, will help create memories with his family and friends and recapture his childhood. All who meet nine-year-old Judson say he is a fun-loving kid full of compassion and strength. Judson's dad, Jeren, described his son, "There are no limits on how truthful and caring he is. He rarely takes anything for himself. He always gives whatever he has to his family and friends. His outlook on life is so pure and unselfish… his kindness, strength, perseverance, and generosity are just a little bit of what makes Judson so beautiful." 
Judson always has a smile on his face, despite the difficult circumstances he's experienced in his life. At 3-weeks-old, Judson's parents brought him to a regular check-up at a Rapid City clinic. Doctors discovered the baby's heart was beating up to 300+ beats per minute, double the normal rate for a 1-month-old. Judson was rushed to the Children's Hospital in Omaha on an emergency jet. Here, doctors diagnosed him with Wolff-Parkinson-White syndrome and determined that Judson just experienced his first "episode" as a result of this rare heart condition. Judson's heart had extra pathways in and around it which caused episodes where his heart would beat rapidly. These episodes could be fatal without proper medical attention. 
Judson needed surgery but had to be older and stronger to undergo these operations, so the family returned to their home in Kyle, SD. Here, Judson experienced two episodes in the first year of his life where he stopped breathing and turned a pale blue color. These episodes sent Judson and his family back to the Children's Hospital in Omaha where he underwent three different surgeries to rid his heart of the extra pathways. The surgeries put excessive stress on Judson's heart, causing him to develop a more serious condition called cardiomyopathy, or an enlarged heart. Doctors installed a pacemaker in his heart to protect him during future episodes. 
I always tell my son he is the definition of strong and I believe it so...He is my hero.
Jeren
Wish dad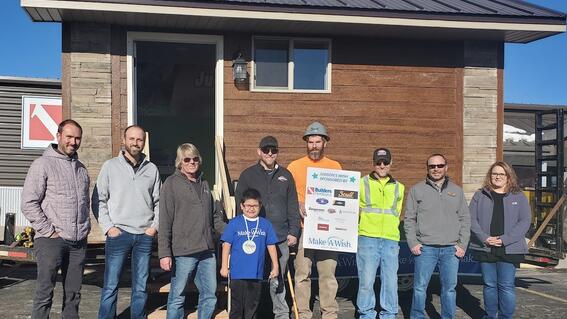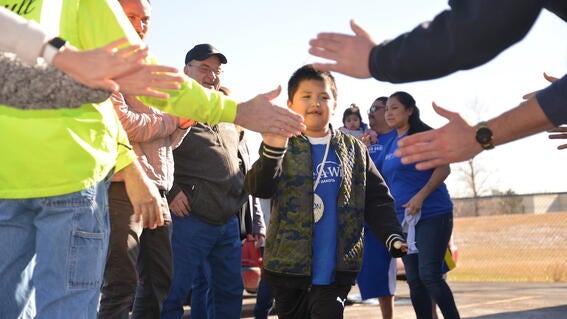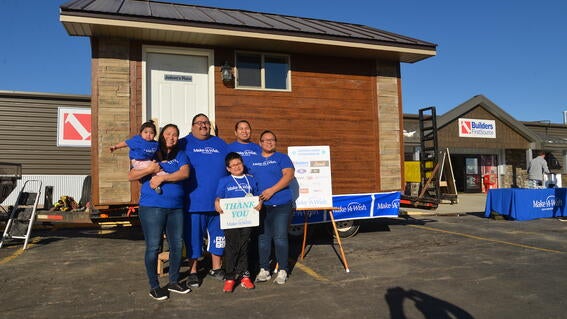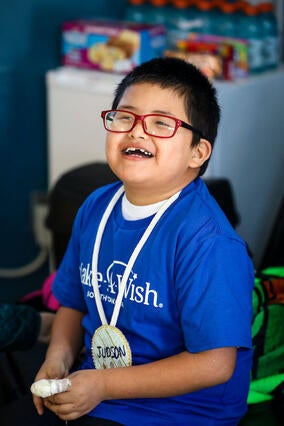 However, at just 2-years-old, Judson almost passed away when his pacemaker mistakenly shocked him 26 times. Doctors repaired the issue with the pacemaker, and while Judson's health condition is now stable, it has been very difficult for him and his family. "I always tell my son he is the definition of strong and I believe it… By knowing and talking to him, you would never know what he has been through. He is my hero," Jeren said. "As for my family, our whole life has changed. Daily routines are made especially for Judson… My family does their best to help with everything that goes into making his health journey a long and happy one. I am grateful and blessed to have them by our side." 
Throughout this medical journey, Judson's mother, Amber, found information on Make-A-Wish South Dakota and referred her son to receive a wish. They discovered shortly after that Judson would receive a wish. 
At first, Judson was unsure what to wish for, considering a trip to Disney World. He wasn't enticed by traveling, however, due to health limitations. He instead hoped to have a playhouse in his backyard to play video games, dance, and have fun with his friends. This playhouse would need to be durable, climate-controlled for use year-round and delivered to the Pine Ridge reservation.  
After much coordination and planning, Judson's wish came true on November 22. Judson and his family traveled to Rapid City where his playhouse was revealed in front of family, friends and businesses who helped make his wish come true. His playhouse includes a gaming system, television, furniture and Nerf Guns, all to allow Judson the chance to recapture his childhood and create lasting memories with friends and family. 
"If I had to choose [my favorite] part, it would be the reveal," said Jeren. "Seeing all the individuals responsible for making the wish come true was heartfelt. Seeing the finished project and my son's happiness made me and his mother cry with tears of joy." 
Judson's wish come true reminded him that his kindness and generosity do not go unseen. "Judson believes when you are a kind person, kind things happen to you," Jeren explained. "This wish is a physical representation of his good and strong actions. This wish makes Judson even more grateful and gives him a better understanding that there are beautiful people out there willing to help one another." 
Judson's family describe the wish experience as a beautiful journey that has allowed them to feel true love and joy. "When times are hard and things that a family wants and needs seem unattainable, a foundation like Make-A-Wish can brighten your child's life and give them hope for the future. Make-A-Wish showed our kids that people care in this world, that they are not alone in this health battle, and to never give up." 
Judson and his family are extremely grateful for his playhouse, which was made possible by many generous and creative donors. A huge THANK YOU to Builders First Source, Scull Construction, Altimate Flooring, Sherwin Williams, Kohl's, Simpsons Printing, All Seasons Heating and Cooling, Beatty Electric, Upper Deck Architects, 5th & Main Furniture by Freed's, GameStop, and Knecht Home Center. A special thanks to wish granters Matt and Mitch who helped make Judson's wish transformational!