Volunteer
Join a caring community of volunteers who transform lives. Together, we can make countless wishes come true.
Your time and unique talents are critical to bringing strength and hope to wish kids when they need it the most. In fact, our volunteers are at the heart of every wish experience. 
Make-A-Wish volunteers consider their work impactful and meaningful. And, their efforts are rewarded—not in dollars or cents, but in the incredible difference they make in the lives of our wish kids. Volunteers even have the freedom to choose when and how they would like to help transform lives in our community. 
We understand that you want to volunteer but might not know where your skills and talents best lie. Check out our volunteer opportunities and see where you can best help make wishes come true.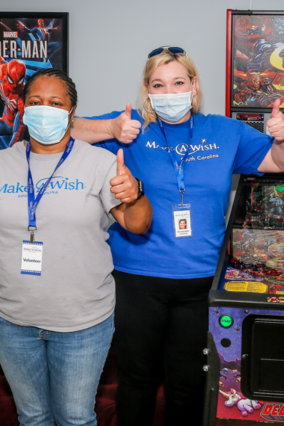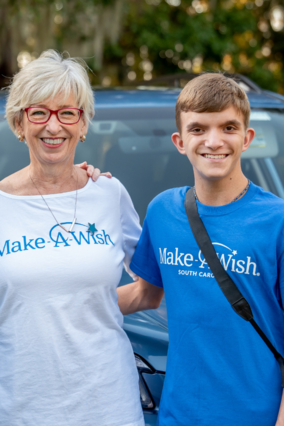 Wish Discovery Volunteer
As a member of a wish team, Wish Discovery Volunteers meet with the family to help the wish child determine the wish and act as a liaison between Make-A-Wish staff and the wish family to help complete paperwork and understand the child's one true wish. Initial meetings may take place at the wish child's home, the hospital, or a public place (restaurant, park, etc). Currently, due to COVID-19, initial meetings are taking place virtually. Minimum age is 21 years old. 
Wish Pal Volunteer
As a member of the wish team, the Wish Pal contacts assigned wish families monthly either by phone, cards, or email to build anticipation and excitement and keep in touch with the family. The Wish Pal can celebrate milestones such as birthdays or end of treatment by sending treats. The Wish Pal also acts as a liaison between office staff and wish family to make sure we have updated information throughout the process.  This role is remote and doesn't require in-person meeting with families. Minimum age is 21 years old. 
Wish Celebration Volunteer
As a member of the wish team, the Wish Celebration Volunteer plans and executes an event to celebrate when the child's wish is granted. This may be at the child's home or at a public location such as a restaurant or Wish Granting Partner business. This may include soliciting in-kind donations to enhance the wish. Minimum age is 21 years old. 
Your Make-A-Wish Journey Starts Today
At every level of the organization, volunteers are critical to the mission. Get started today and soon you can bring hope and joy to local children with critical illnesses as a Make-A-Wish volunteer. 
Fill out application: To get started on your journey, please begin by filling out our application. If you have any questions, you may reach out to our volunteer coordinator at [email protected].  
Volunteer Application FY21_South Carolina