I wish to have pet goats
Madison
12
gastrointestinal disorder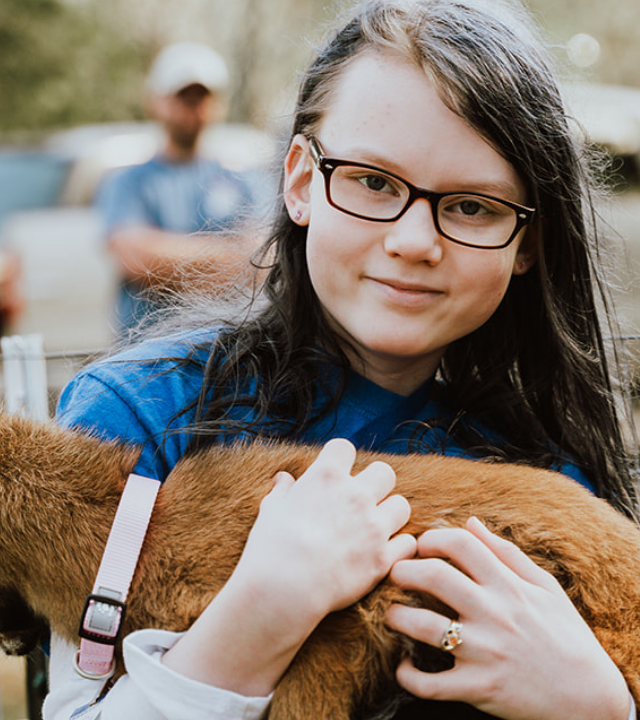 Providing Joy Through Furry Friends
As a pre-teen with a serious gastrointestinal disorder, Madison is no stranger to medical procedures. Starting from infancy, her parents knew that their daughter had digestive issues, but it would be several years and many doctors' visits later before she would be properly diagnosed with a critical gastrointestinal disorder. As her body grew, so did the seriousness of her medical condition, requiring frequent surgeries to provide temporary relief to her growing body.
Madison's love of goats came from her favorite stuffed toy, "Patrick", her beloved toy and constant companion. Patrick accompanies Madison to all her doctor's appointments -- and even into surgery! The nurses use Patrick as a teaching tool, helping Madison not be afraid of needle pokes and anesthesia masks.
One day, Madison's mom took her to play with real goats, and her heart just soared! Feeling their soft fur and watching the way the goats played inspired her and helped her forget about her critical illness.  So, when Madison met her volunteers from Make-A-Wish, she knew immediately what her heartfelt wish would be: to have her own pet goats!
Thanks to you, Madison's wish came true! Two adorable Nigerian Dwarf goats now reside in Madison's backyard, along with proper fencing, play toys and a dwarf-sized barn. The delight that comes from watching these playful creatures and the motivation she receives from caring for their daily needs is good for Madison and her whole family. While Madison still faces more surgeries for her medical condition, now that her wish has come true, she can spend hours caring for and playing with her goats. Thanks to you, she has something joyful to look forward to every day!