I wish to meet Denis Dailey
Jayden
7
leukemia
7-year-old Jayden has been fighting leukemia for nearly three years. He has gotten used to spending a lot of time in the hospital for various treatments and procedures. Playing games and watching YouTube videos has become a solace for Jayden during his darkest times. When Jayden found out he would be receiving a wish from Make-A-Wish® Philadelphia, Delaware & Susquehanna Valley, it was a no-brainer for him – he wanted to meet his favorite YouTuber, Denis, in person and play games with him.
Jayden's wish was scheduled for May 2020. He anxiously counted down the days for his wish trip to Canada to finally meet Denis. At the end of February, Jayden was unexpectedly hospitalized with an infection. His oncologist let Jayden know that he wouldn't be medically cleared to travel on his wish in May. Luckily, the Make-A-Wish® team was able to work with Denis to re-schedule Jayden's wish to July.
Just a few weeks later, the world was taken by storm when COVID-19 hit. To protect the health of wish kids and their families, Make-A-Wish postponed all travel wishes scheduled for the summer, including Jayden's. He did not see how things could get any worse. What Jayden needed more than ever was hope.
During these challenging times, Make-A-Wish seized the opportunity for how they can continue to grant life-changing wishes. Celebrities like Denis have offered to create wish experiences for children virtually to give them the chance at hope they deserve now. Even though an online meeting wasn't what Jayden had originally envisioned for his wish, the idea of playing games virtually with Denis brought him back much-needed joy.
We have the video saved. Jayden has re-watched it dozens of times.
Jayden's Mom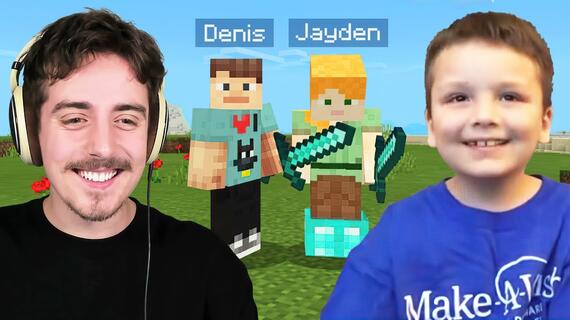 Jayden's wish experience was above and beyond what he could have ever imagined. He was able to play games online with Denis for over an hour. Jayden loved having the one-on-one interaction with his idol and having Denis' undivided attention with no distractions. The icing on the cake? Denis recorded their gaming session and added a clip of it to his YouTube channel! This was an opportunity Jayden never could have even dreamed of had it not been for Make-A-Wish.
The best part about having a virtual wish experience is having a recording of the entire meeting to be treasured forever. Jayden's mother shared, "We have the video saved. Jayden has re-watched it dozens of times." Jayden's wish provided him what medicine could not – extraordinary and memorable experiences that allowed him to take his focus off his illness and provide a sense of renewed normalcy. Now when he is isolated and vulnerable due to COVD-19, he will be able to watch his wish video over and over again to bring him that same feeling of joy that he had on his wish day. That is the lasting impact of a wish.