I wish to have an iPad
Donald
6
pulmonary condition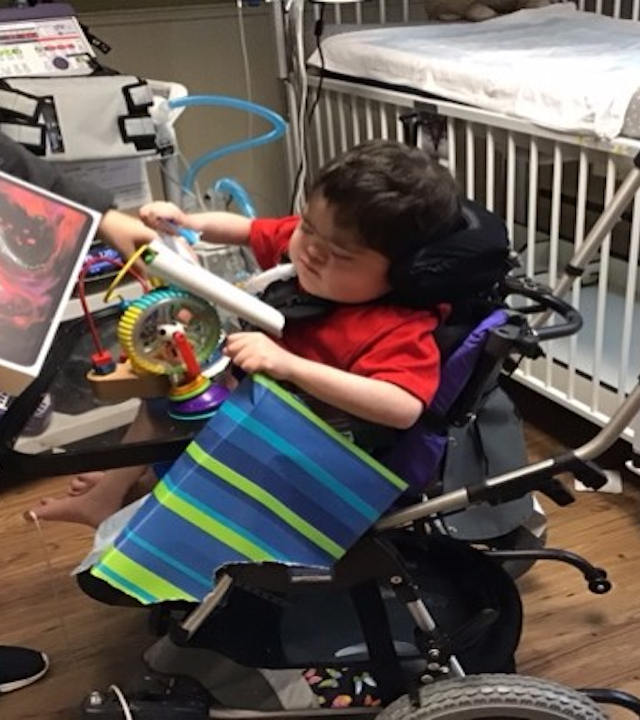 January 13, 2020 marked the start of an incredible adventure for 5-year-old Donald. Most wish kids love counting down to that first step in their wish journey: the wish off of his wish items outside of the care center. His volunteer wish granter, Patti, shared: "A very different wish delivery in this extraordinary time…but it has been accomplished for Donald!"
Donald's medical team captured photos of him opening his gifts to share with his family. His Care Coordinator shared, "He loves it! He really enjoys watching kids YouTube on it. Please extend our gratitude to the folks who made this happen for him."
Wishes take a village - from the generous donors and community members who purchased Donald's wish items on Amazon, to Donald's volunteer wish granters for adapting to the times to deliver his wish, and Donald's medical team for ensuring his wish was granted safely. Our team could not have granted Donald's wish without our incredible community of supporters. His wish granting came at the perfect time to provide Donald hope and joy during this time of uncertainty. The power of a wish will never fade.
A very different wish delivery in this extraordinary time...but it has been accomplished for Donald!
Patti
Volunteer Wish Granter
Interview Day!
Donald's two volunteer wish granters went to visit him at the Children's Hospital of Philadelphia to learn about his wish choice. Right from the start, it was clear that Donald absolutely loves tablets. His wish granters marveled at the amount of joy that watching videos and listening to music on the hospital tablet brought Donald. There was no denying Donald's one true wish: to have his very own iPad!
The Make-A-Wish® Philadelphia, Delaware & Susquehanna Valley staff got hard at work to make Donald's wish extra special. The team knew their community of supporters would love to hear Donald's story and have a part in his wish experience. His Wish Manager put together an Amazon Wish List of iPad accessories, including a floor stand to make it easy for Donald to watch videos in his hospital bed. Within mere hours of posting the list on the Make-A-Wish® social media pages, all of Donald's wish items were purchased.
By the time Donald's iPad and accessories arrived, the Make-A-Wish team was thrown a huge curveball that no one could have ever expected: COVID-19 prevented Donald to have any visitors at the in-patient facility he was staying at for his heart condition. Donald's wish granters and Wish Manager were determined to make sure Donald's wish could still come true. Make-A-Wish contacted his medical team to coordinate the safe drop.