I wish to go to Paris
Sydney
13
lymphoma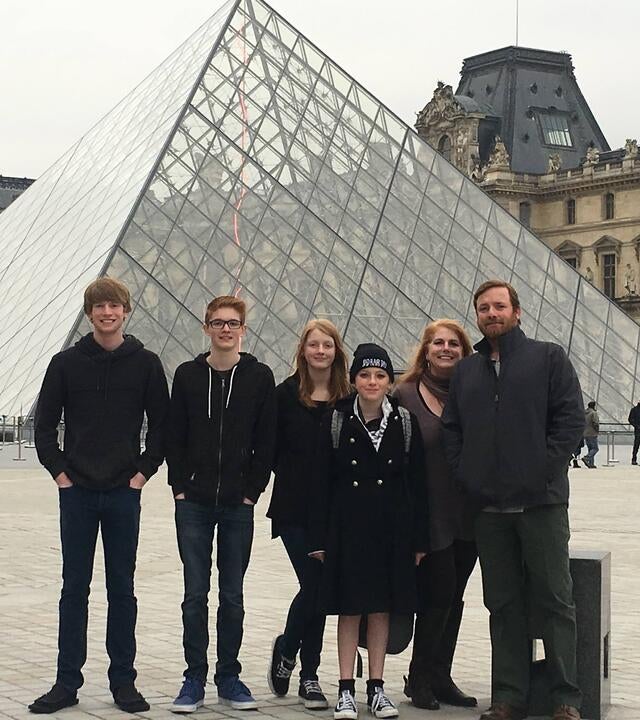 Sydney's Wish To Go To Paris
Even in the face of adversity, Sydney's smile shines through. She's not going to let cancer keep her down. Sydney has rightfully earned the nickname Cancer Slayer, but it wasn't an easy fight.
Sydney's treatment and care took place in Minneapolis, Minnesota which is about 12 hours away from her main support system – her dad Ray, brothers Logan and Dillon and sister Miranda in her hometown of Williston, North Dakota. It's been a long tough road for Sydney and her mom, Deanna. Alone in a city where they know no one and fighting to slay cancer.
At the end of her treatment journey, a wish come true waited for her.
Make-A-Wish North Dakota wish granting volunteers met 13-year-old Sydney during her treatments. Their visit and the idea of making her one true wish come true provided hope and something to look forward to for Sydney. During their visit, Sydney shared that she has always wanted to visit Paris and that she loves history. She said her must-see list includes the Eiffel Tower, the Arc de Triumph and exploring the Louvre. She was also looking forward to eating French bread and taking in a fashion show while in Paris.
In the months leading up to her wish, Sydney had lots of surprises along the way to build excitement and anticipation about her wish. On her 13th birthday, her Paris themed cake revealed her exact travel dates. On Valentine's Day she was surprised with a send-off party hosted by the jewelry counter at JC Penney in Williston. Sydney's wish was adopted by Jewelers for Children and the JC Penney jewelry counter is a local partner. Sydney got to star in her own fashion show as she selected outfits for the trip and was showered with well wishes for her trip.
After months of planning and anticipation, it was time for Sydney's wish! In March, Sydney and her family boarded a plane and flew across the ocean to the City of Love!
Sydney and her family went on many excursions throughout their trip. On one of their days they got to tour the Eiffel Tower and learn about the popular monument and then jump on a boat tour on the Seine River where they got to see many historical landmarks like Notre Dame and the Louvre.
 
"We are so grateful."
Deanna
Wish Mom
On another day Sydney had the opportunity to explore the fashion district of Marais, including a meeting with a perfume specialist and dropping into the shops of popular hat and shoe designers. Between the planned adventures and the opportunity to explore the city at their leisure, Sydney and her family kept busy on their trip.
That kind of busy schedule was a welcome change to the usual routine of doctor appointments and treatments. Having cancer can take a toll on anyone but especially on a child who wants nothing more than to be able to explore, learn, and spend time with friends and family. This wish was an opportunity for Sydney and her family to celebrate how far she has come since her diagnosis and spend quality time together making memories to last a lifetime.