I wish to have a playset
Gabe
3
kidney transplant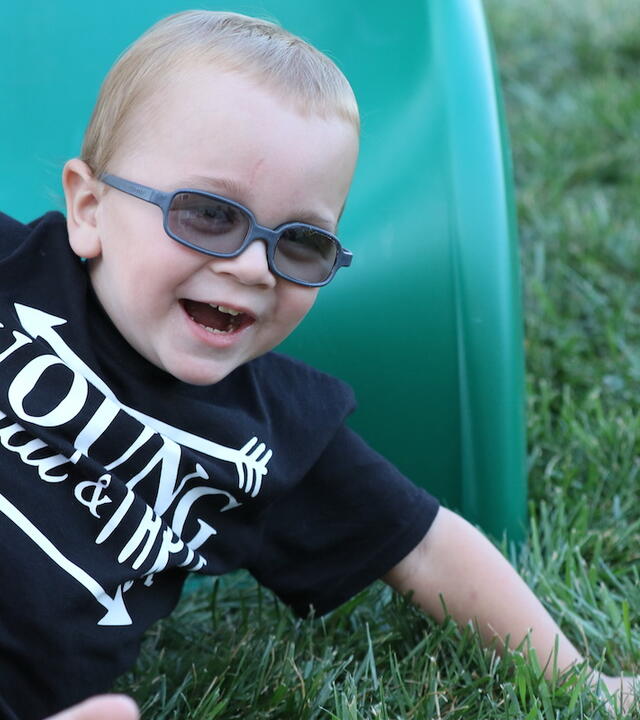 Gabriel's Wish Became an Oasis Built on Community & Kindness
It takes a village to raise a child. Or, in the case of young Gabriel, it takes a community to build a playset. 
Due to his medical condition, and being immunocompromised, Gabriel and his family are forced to spend most of their time isolated from others. They do this to keep Gabriel safe; safe from germs, and safe from the invisible microbes that threaten the boy's health. Even the public playground is a threat to Gabriel. His mother can sanitize and clean away only so much, and of the hundreds of children who visit public parks, it takes only one sick child to compromise Gabriel's health. 
Gabriel's one true wish became an oasis built on community and kindness for his family. Being so young, Gabriel's parents helped their son discover his one true wish. His mother wanted something that would be memorable for her son, but impactful as well. There are any number of possibilities for a wish, but Gabriel's wish is a way for him to experience the typical childhood activities that he is so dearly missing out on. Before his wish, Gabriel had never experienced climbing, and that was about to change. 
They came like a rag-tag militia group, firefighters, friends, and volunteers marched to conquer the complexity of construction instructions, their hands working hard to raise to the sky a fort of fun, safety, and childhood. What emerged was Gabriel's wish, Gabriel's kingdom, his very own playset. Gabriel's wish reveal happened on the day of his birthday party, surely making his third birthday one he will never forget. 
Gabriel is a social boy, however, on the day of his birthday party and the wish reveal, he rushed towards the playset in rapture – completely ignoring the crowd of people there to celebrate Gabriel's life and wish. Then Gabriel saw the crowd. Little legs sprinted across the yard as he greeted his guests, and just as fast, Gabriel ran back to the playset, grasping at plastic binoculars, he switched between looking at the crowd and back at the playset.   
Then, in less than twenty-four hours, Gabriel learned to climb, as he scaled up the playset's ladder, and slid down the slide.
It's something a lot of people take for granted, watching their child go down a slide.
Tiffany
Gabriel's Mom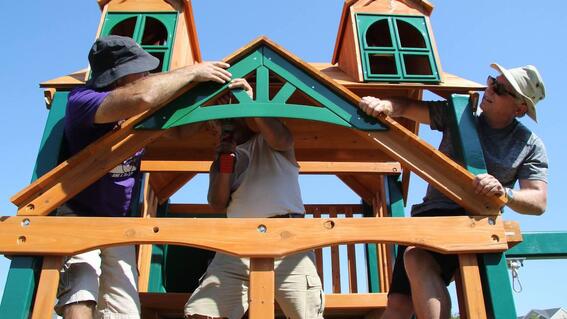 For his family, the playset allows Gabriel freedom. When remarking about the benefits of his wish, Gabriel's mother Tiffany stated, "It's something a lot of people take for granted, watching their child go down a slide." From a physical standpoint, Gabriel has been able to grow stronger as he climbs up the ladder, rock walls, and other parts of the playset. But, from a social standpoint, Gabriel has been able to interact with children more in the last months than ever before.  
It takes a community to help give a boy a sliver of freedom, and Gabriel's family felt overwhelming joy just knowing that the community was there to support Gabriel's wish, his life, and their family. Additionally, it was a welcome surprise when some of the volunteers were discovered to be co-workers of Gabriel's father. They had come to support a wish child, they had come to donate their time to preserving childhood, and it just so happened they were able to support a co-worker, and his son. For Gabriel's family the work of the wish granters and the community was as big a gift as their son's wish. In a way, living with a child suffering from diverse medical issues creates a barrier between Gabriel's family and the rest of the world. Gabriel's parents and family must be mindful of Gabriel's needs and while they wish they did not need to; they often must remain isolated for his health.  
When you're separated from the daily grind of life, it can seem as if the world is going on without you. Just having a day surrounded by friends and caring supporters – who have willingly given their time – reminded Gabriel's family that they are never alone. The world is not leaving their family behind; instead, through the power of community and the power of a wish, they know they have support now and forever.  
Now, Gabriel and his family look forward to winter and snow. They look forward to sliding down a snow-covered slide, and hearing Gabriel's excitement.  
Meanwhile, Gabriel's mother prepares a scrapbook – a wish scrapbook. In that scrapbook, there will be a list of names of everyone involved in making Gabriel's wish come true. There will be pictures as well, pictures from the event. These are pictures Gabriel will be able to look at years from now and reflect on how a group of caring people, who did not know him, came together to build him a playset and open a new chapter in his life.  
Just like it takes a village to raise a child, it takes a community to create a life-changing wish experience for a child in need.