I wish to go to the beach to see sea turtles
Keeton
14
Non-Hodgkin's Lymphoma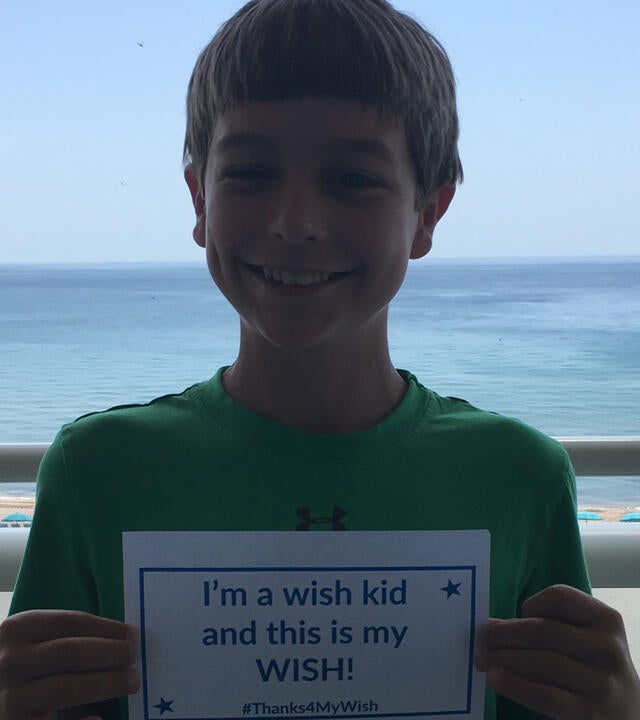 Keeton's love for turtles developed at an early age, leaving his mom to question where his passion came from, as their Kansas home is nowhere near the beach. From the time he was able to walk or talk, he would always bring them up.
Being a quiet 11-year-old, Keeton has had many health concerns throughout his life, including reflux when he was born. He complained about a chest pain a few times, but it was typically inconsistent and since he was born with reflux, the family wasn't too concerned. After a while, however, his mother brought him to the endocrinologist and the doctor tested Keeton for pancreatitis. 
 
Blood was drawn, and X-rays were taken. His X-ray revealed a clouded area in his chest and unsure what it was, the doctors ordered more tests. Keeton was told he had a large mass in his chest. The size and location were concerning, so he was admitted to the Intensive Care Unit. The doctors were worried if Keeton fell asleep or relaxed, the mass may close his windpipe which would restrict him from breathing. 
Keeton and his family then received news that would forever change their lives; Keeton was diagnosed with stage III non-Hodgkin's lymphoma. "It took time to process because it was a complete shock," said Susan, Keeton's mother. 
Susan mentioned that on top of not being able to fully understand what just happened, the doctors started treatment with Keeton immediately. "The doctors took the ball and ran with it." The family was asked if they had any questions, but Susan said they didn't know what to ask because they didn't fully understand what it was.
Fortunately, Keeton was able to receive a wish that was a completely unforgettable experience for his entire family. Sea turtles are Keeton's passion, so he knew that's what he wanted his one-true wish to be: I wish to go to the beach to see sea turtles. 
Battling for his life every day, not being able to play with his friends, Keeton received the wish of a lifetime. He and his family went to Boca Raton, Florida and they were treated with nothing but kindness and excitement from complete strangers. "Everyone was thrilled to meet Keeton and play a role in his wish granting process," said Keeton's mother, Susan. 
In Boca Raton, there is a Nature Center called Gumbo Limbo and they made sure Keeton felt like part of their team that day. Typically, they do not have sea turtle rescues, but the morning Keeton went, he was lucky enough to experience the rescue of his favorite animal. Not only did Keeton experience a rescue, he was able to help bring it in, weigh, measure and take blood from this rescued turtle. The staff treated Keeton's family extraordinarily as they knew this was his one-true wish. 
In addition to helping this rescue turtle, the Gumbo Limbo Nature Center team found a sea turtle nest early that morning, so Keeton was able to help with that as well. He helped check them in and see which ones viable and which ones weren't. Keeton returned to Gumbo Limbo Nature Center later that night to release over 50 baby sea turtles back into the ocean. He is a very quiet child, and Susan explained that even when he's excited, he doesn't usually express it. Although he typically doesn't express his excitement, Susan stated that she was able to see him truly feel good for that moment in time. "Knowing his heart was full, he had joy, and you were able to see it on his face is something I will never forget." 
Weeks after the wish, Keeton brings it up every day and it serves as something that pushes him to keep going. Because of the amazing experience, he requested the group picture they took at Gumbo Limbo Nature Center, so he can treasure that memory forever. He is still undergoing treatment, but on August 22, he will officially be done with chemotherapy. Bringing this family together for a getaway from all of this was something Keeton and his family needed. Every time he's gone in for treatment since his wish, he shows pictures and talks about how amazing the experience was. 
Keeton's mother ended by saying, "Thank you doesn't do the wish justice. All we can do is say 'Thank you' to people. We can't repay what has been given to us because we will always remember this. All of us. This will be an experience that we will share forever. It seems insignificant to just say this but thank you."