Workout for Wishes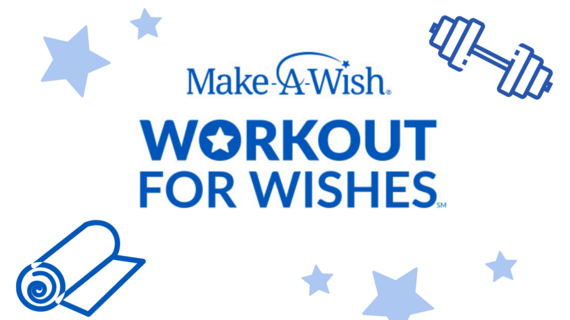 Location
66 Mussey Rd,
Scarborough,
04074,
ME
Jumpstart your year and join the Make-A-Wish Maine Young Leaders Council for a series of workouts this January. Use one of the recommended workout programs below to get fit in honor of inspiring wish children. 
Or donate by texting YLC to 44-321 or clicking this link and receive access to join exclusive virtual workouts. Donations of any amount are appreciated but you must donate in the time period specified to gain access to the corresponding class. If you are unable to join the virtual workout live, the recording will be made available for two weeks after the live date.
Juliana's Workout, Difficulty: Medium
WorkoutForWishes Juliana Medical Journey Workout.pdf
Keannu's Workout, Difficulty: Hard
WorkoutForWishes Keannu Medical Journey Workout.pdf
---
Wednesday, Jan. 13 at 5:30 PM 
Donate between Jan.1st - Jan. 13th for access to a 45-minute bootcamp Zoom class with Faye Maier
Faye Maier has been a trainer for about 8 years, teaching bootcamp style classes and personal training. She enjoys focusing her classes on full body strength as well as core strength. Faye currently teaches at Crisp in Scarborough, a one-of-a-kind fitness studio that offers spin, heated vinyasa yoga, bootcamp and fusion classes. 
Wednesday, Jan. 20th at 5:30 PM
Donate between Jan. 14- Jan. 20 for access to a 1-hour beginners yoga class with Courtney Dusablon
Courtney Dusablon received her certification from The Portland Yoga Project in the summer of 2020. She teaches community classes at Portland Yoga Project and donation-based classes virtually through Zoom. Courtney creates classes that are accessible for students of all levels with a vinyasa style flow. She believes that everyone can find benefits from yoga and incorporates new and exciting ways for people to find their own personal benefits.
Wednesday, Jan. 27th at 5:30 PM
Donate between Jan. 21- Jan. 27th for access to a 1-hour high-intensity pilates class with Bridget O'Carroll
Bridget O'Carroll is a Philadelphia and DC-based fitness instructor who has been teaching Pilates since 2016. As a former [solidcore] Pro Coach and SLT instructor, she integrates resistance-based training to create form-focused, effective workouts. Bridget started Body by Bridget virtual workouts in April of 2020 and has seen the community grow at an excitingly rapid pace.