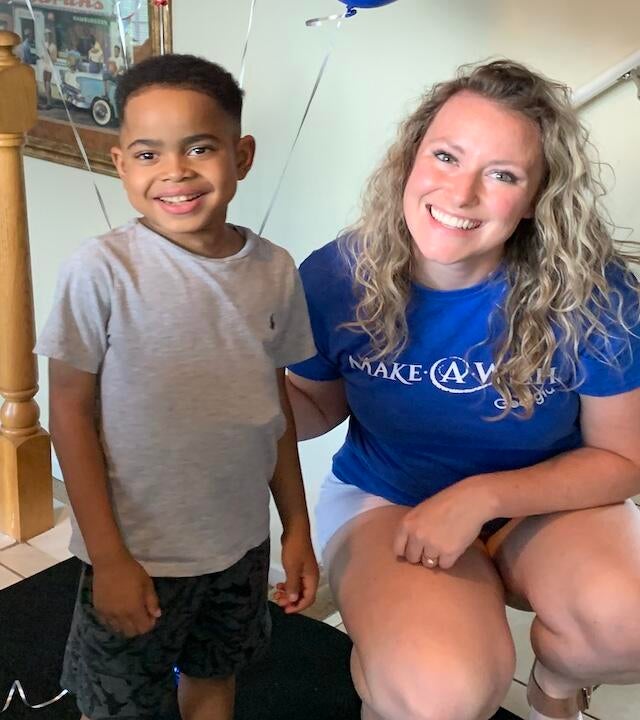 Volunteer Wish Granter
Kathryn's Story
When I was eight years old, I took a trip to Disney with my mom, Aunt and two cousins. One of my cousins happens to have spina bifida and is in a wheelchair. 
For this reason, she had to be helped onto each ride. Often, the Disney cast members would allow us to ride each ride as many times as we liked before helping her out of the car. On the day we visited Animal Kingdom, we were so excited to ride the Kali River Rapids that we went there first. The cast members helped my cousin onto the ride next to another girl, who was also a wheelchair user. We learned she was on her wish trip! 
"My first introduction to the impact of a wish happened when I was eight years old. To the day, I will never forget it." 
Kathryn
We rode that raft at least 6 times to ensure that everyone had the chance to get soaked. FINALLY, our new friend and wish kid got DRENCHED! I've never seen such pure joy! She laughed and laughed as her eyes sparkled behind her bottle cap glasses. We spent the remainder of the day exploring the park with her and her family. That evening, we made it back to Magic Kingdom for the fireworks, rounding out the most magical day.
20 years later, I couldn't tell you what her name was. But I can vividly recall what it felt like to be with her and, even for a bit, share in her joy.
When I began looking for ways to invest in my community, she was the first person I thought of. I researched Make-A-Wish, found the local chapter here in Georgia and immediately applied to become a Volunteer Wish Granter. That little girl sparked a love in me for the magic of wishes. And I think of her before I meet every new wish kid.