Trailblaze Challenge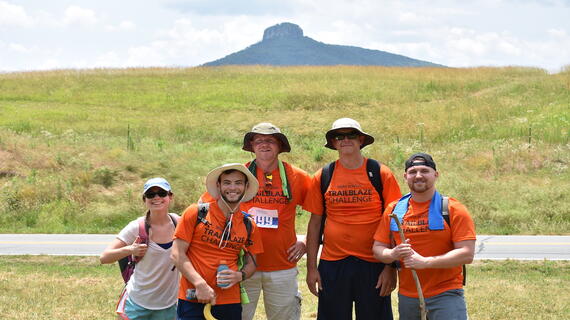 It's not a race...it's a journey!
The Trailblaze Challenge is a 26.5 mile endurance hike where participants can tackle the terrain of the Sauratown Trail and all in one amazing day! This is a hike, not a race, and caters to all levels from novice to advanced outdoor enthusiasts.
Designed as an endurance event, Trailblaze Challenge gives participants the opportunity to hike a 26.5 mile journey along the terrain of the Sauratown Trail from Hanging Rock to Pilot Mountain State Park, outside Winston-Salem, North Carolina, all in one amazing day while raising vital funds to grant the wishes of children battling critical illnesses, across Eastern North Carolina!
This year's event has been moved to a virtual hike to be completed over a 2-week period in October. Further in person activity is pending decision. 
Participants interested in Trailblaze Challenge are required to register for an Info Meeting. Info Meetings will take place in and around the Triangle area as well as Greenville and Wilmington.
Check back for the schedule and more information on the 2021 Trailblaze Challenge.
For additional information or for sponsorship opportunities, please contact:
Leah Bundy
Senior Director of Development
[email protected]
919-821-7111, ext. 2113