I wish to visit a warm beach
Jocelyn
3
cancer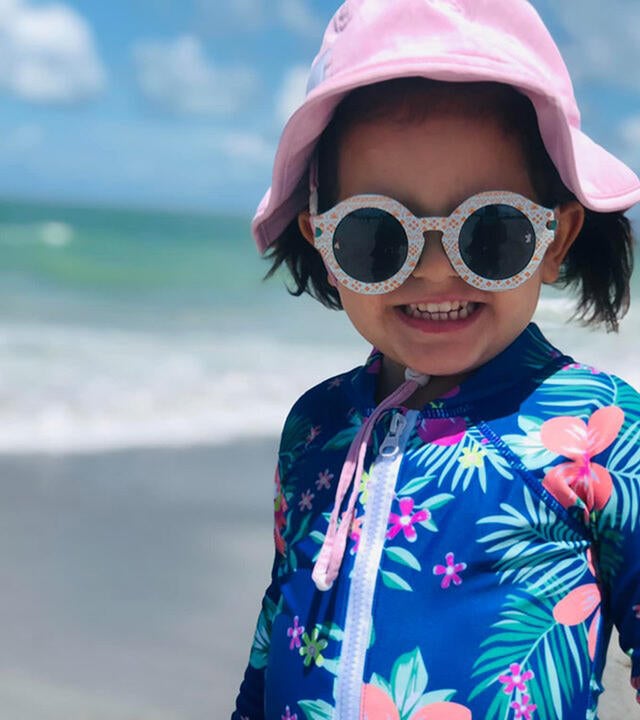 Curious, spunky and especially talkative describes three-year-old Jocelyn.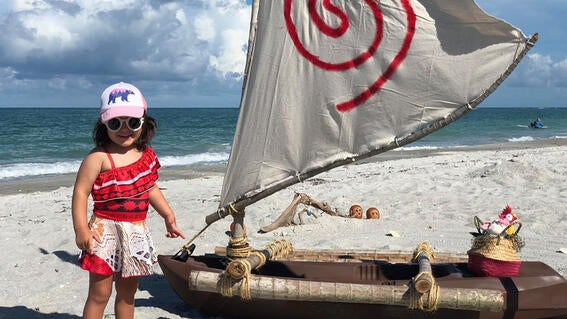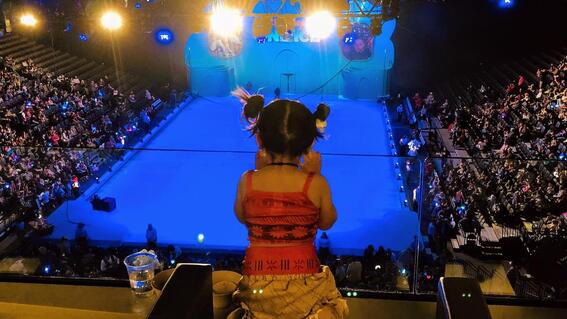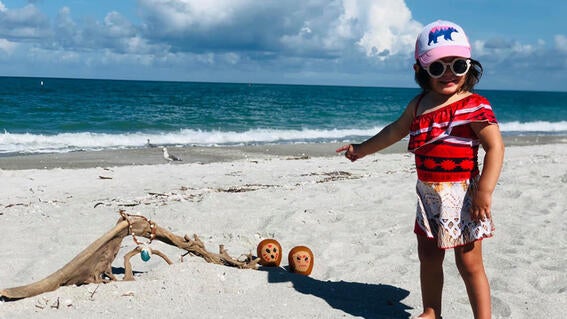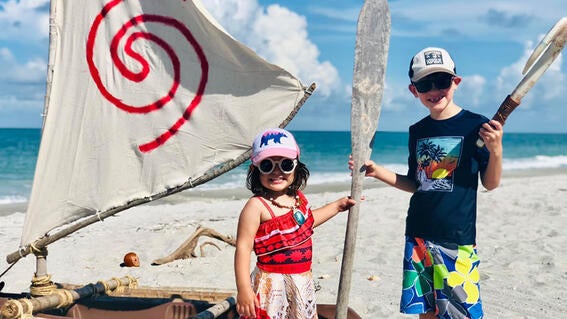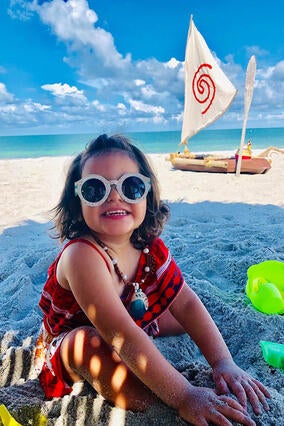 Like other toddlers, she is very active and loves to ride her bike, play in the sand (and let's be honest…dirt) and of course, she loves to loudly sing along with her favorite Island princess, Moana! 
You wouldn't know it by looking at her smiling face, but Jocelyn received an extremely scary diagnosis, one that forced her learn how to walk and talk in what quickly became her second home, the hospital after she was diagnosed with Stage 4 Neuroblastoma, a malignant nervous system tumor.
Her parents, Raul and Chrissy, began noticing that Jocelyn, at around 14-months-old, was showing signs that something might be wrong with her eyesight. The initial diagnosis from the pediatrician was that there was nothing to worry about and the eyesight might correct itself. Not too long after that visit, however, a lump was discovered on her neck and her parents received the devastating news that their baby girl had cancer.  
Because of the advanced diagnosis, treatment had to begin very quickly and aggressively, putting Jocelyn under six rounds of chemotherapy. She received additional treatments in the coming weeks, including 20 rounds of radiation as well as two stem cell transplants. 
A lot to put a three-year-old through. Good thing she had a strong hero to look up to: Moana. 
Truthfully, Moana is what got her through two years of treatment.
Jocelyn's Mom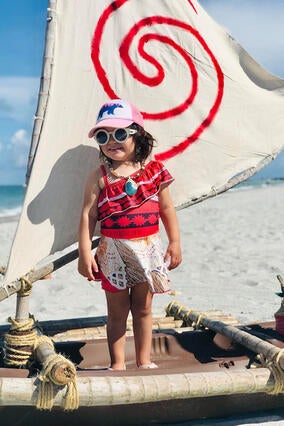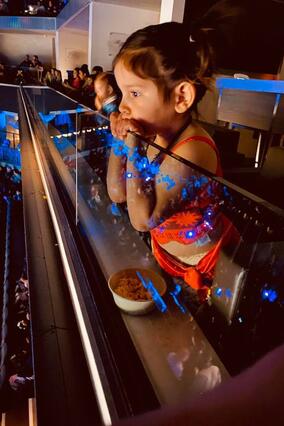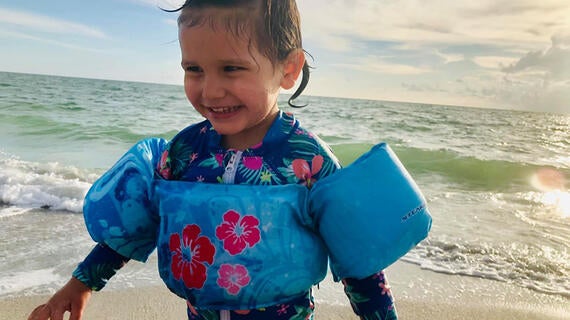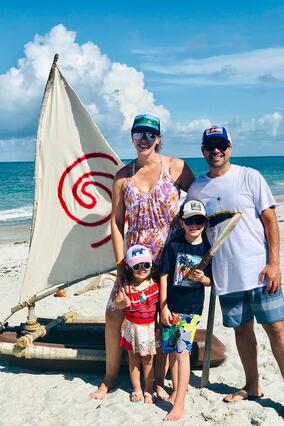 Jocelyn responded "beautifully" to the treatment. 
So, what do strong, brave and spirited little girls do? Well, they get to make wishes, and that's what Jocelyn did when she arrived at The Wishing Place in Sacramento with her mom, dad and older brother, Stanley. 
When she made her magical visit to the Wishing Place, Jocelyn was all smiles, but there were some big decisions to be made. Would she want to meet Moana, her favorite princess, or would it be better to go to a warm beach and play in the ocean and sand? 
Deciding on what your most heartfelt wish would be can be challenging… but in the end, Jocelyn's love for the water was overwhelming and clear. So, she cast her heartfelt wish to visit a warm beach down the wishing well! 
Once it was revealed to Jocelyn that her one true wish would soon be granted, she beamed with joy -It was all finally happening. She and her family would be heading to Captiva Island, Florida to play in the sand and feel the ocean breeze. She could barely contain her excitement.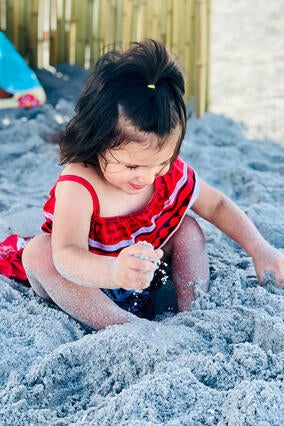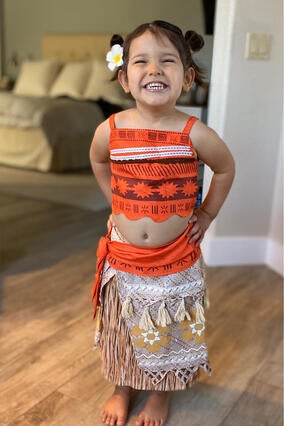 In fact, all along their journey, everyone could see how excited she was. From her limo ride to and from the airport, to her VIP experience meeting the airline pilots at Southwest, and bonding with her Avis Rental Car agent; they all LOVED meeting this smiley girl. 
But her wish wasn't to share her smiles with everyone she meets, her wish was to see the ocean! 
"She lit up as soon as she saw the ocean," Mom said. "She loved playing in the water and the sand every single day, and we literally had to drag her out every day!"  
And certainly, one of the coolest things she got to do was have her Moana inspired beach day, complete with Moana's outrigger canoe!  
Of course, Jocelyn looked the part too, with her own Moana bathing suit, the kakamora (little coconuts with face paint) and singing her favorite Moana songs. 
"Make-A-Wish thought of everything," Dad said. "Every last detail was taken care of, and through such a trying time it was such a huge relief [to have everything planned for us]. They even threw a few surprises in along the way." 
"We all felt so special and cared for."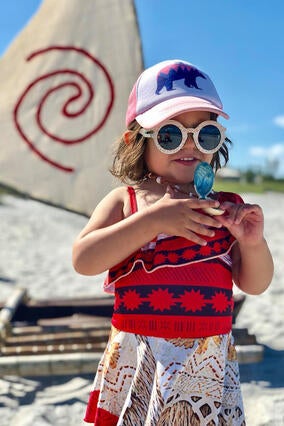 So, when you look at Jocelyn's infectious smile, you will continue to see that fun-loving, spunky three-year-old water bug, even when times are tough. She'll be able to share and reminisce on these life-long and priceless memories with her family forever. 
"Not only are these wishes a huge motivator to get through treatments and to see a light at the very dark tunnel, but it allowed us to be together as a family, doing things we could only dream about," Mom said.  
"The whole experience was magical from start to finish." 
Jocelyn's Journey, as her family calls it on their online blog, is one that sees her currently in remission (and doing amazing). This brave journey that has sparked inspiration in their own community and in all of us, is far from over. We can't wait to see where, and how, the sea calls her next! 
How far will Jocelyn go? 
One day, we'll all know, how far she'll go!