I wish to have a camper
Cassie
16
cancer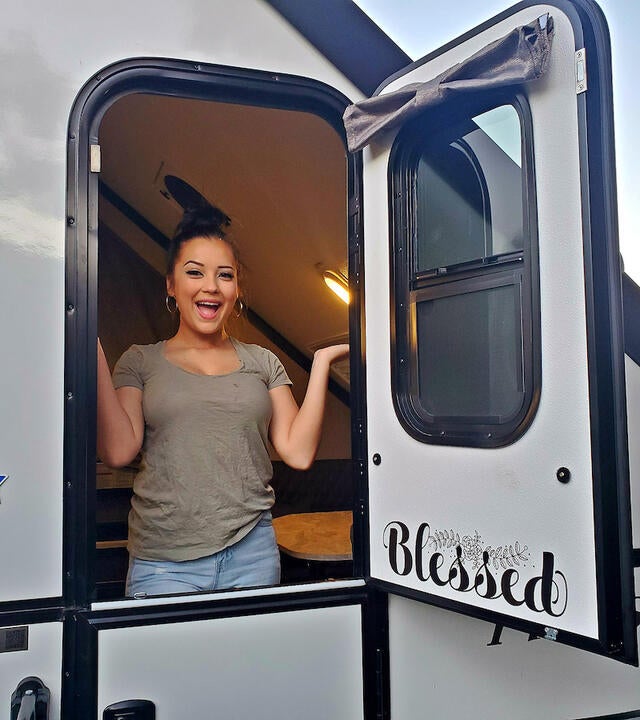 At an age when many teenage girls are worried about relationships, prom and what their futures hold for them in the coming years, 16-year-old Cassie has other things to worry about.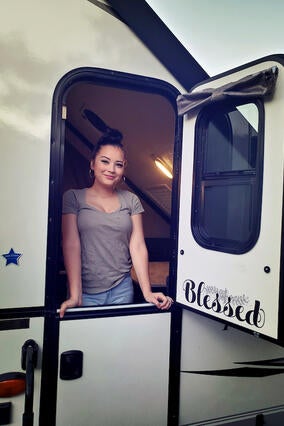 Nearly five years ago, Cassie learned she was diagnosed with a rare skin condition. However, after discovering a painful lump on the side of her neck that continued to get larger and more painful, a biopsy was ordered and within a day, Cassie was diagnosed with thyroid cancer. 
Following her diagnosis, she underwent intensive surgery to remove her thyroid along with 74 lymph nodes and would start radiation therapy immediately after. Her body's initial response to the treatment didn't show signs of recovery, so her medical team modified her medication, in which Cassie responded to positively. 
This diagnosis had a life-altering impact this had on Cassie and her seven other family members. Not only did her skin condition force them to be mindful of how much sun she was exposed to, or how hot it is outside, but they also had to be mindful about the possibility of bringing home illnesses, which could really impact Cassie and her compromised immune system. 
Throughout her diagnosis and treatment, Cassie had been a champion, according to her mom Kimberly. Inspired by her strength and resilience, her doctors suggested she refer her daughter to Make-A-Wish. 
"I hadn't because I thought Make-A-Wish was just for younger kids," Mom said. "When I did finally refer her, I learned that so too did her doctors. We were all excited!" 
After being referred for a wish, it was now time for Cassie to begin her wish journey, all beginning at The Wishing Place in Sacramento, headquarters to the Northeastern & Central California and Northern Nevada chapter. There, Cassie and her family met their wish granter and started to brainstorm on what wishes she would like to make. 
This magical experience was incredible for her. Cassie, not having a selfish bone in her body, struggled to decide what her most heartfelt wish would be. Her wish granter reminded her that this wish was for her, and that she was deserving.  
"I don't really like being the center of attention," Cassie said. "I never really thought about what I wanted for myself, so it was kind of hard to think about my wishes." 
 But it wasn't hard for her family to tell Cassie what an incredible opportunity, for her, this was. 
"Having such a big family, she thinks about everyone else," Kimberly remembered.  "I had to keep telling her that this one time, she had to be selfish. This is for you and just you!" 
After thinking long and hard and brainstorming all the possibilities, Cassie had narrowed it down to one of her two wishes.  
With five siblings, having her own space would be nice, but doing something she'd never expected to be able to do and go to Italy, well, that'd be amazing too. 
Growing up, I never really had an option to have my own space to get away from everything. Since I was diagnosed, it's been overwhelming to be in a house of eight people.
Cassie
Wish Kid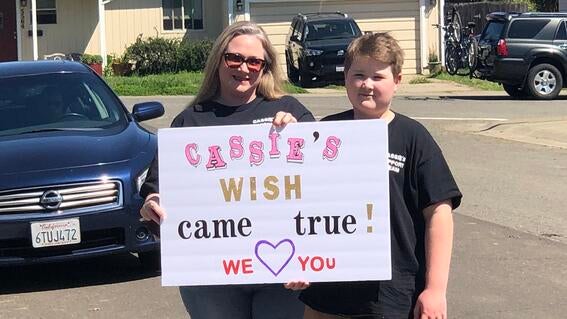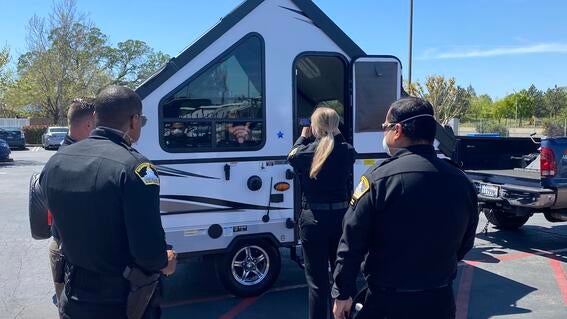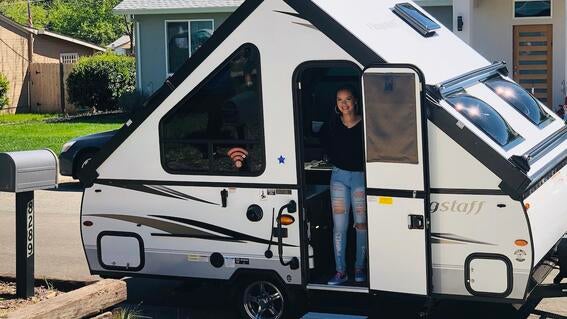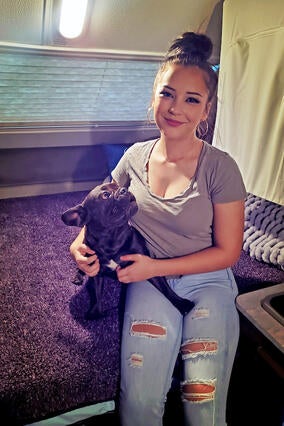 In the end, it was a tough choice, but one that was thought about a lot. Her wish would be to go to Italy. Cassie's passion to see the world is what motivated her to make that her wish. 
Then again, having five siblings does make it hard to be a teenager. 
"Right after her wish visit, she came home and wasn't sure that she chose the right wish," Mom said. "She really wants to travel, but at the same time, she really needs her space. So, I think in her head, she was going back and forth between those two." 
"Then came this pandemic, and I think that pushed her to her true wish." 
On the heels of her January wish visit, the world literally came to a standstill due to COVID-19. In a matter of months our "normal" became "a new normal".  
And sadly, wishes were impacted. Across the world, children battling critical illnesses, like Cassie, had many of their wishes put on pause. Her wish to go to Italy, to her, seemed far reaching. 
"Cassie came to me and asked how I felt about her changing her wish," Mom explained. "We discussed that even if the pandemic was over and she was able to travel, how comfortable both of us felt." 
"It was then, she knew what her wish was." 
Cassie connected with her wish coordinator and let them know that she had decided that her most heartfelt wish was to have her own space. 
"Growing up, I never really had an option to have my own space to get away from everything," Cassie said. "Ever since I was diagnosed with thyroid cancer, it's been overwhelming to be in a house of eight people." 
It wasn't just the space to be alone either. The more Cassie thought about it, the more she realized that the space she was most excited about was a trailer. A place she could hide from the hot Sacramento sun, a place she could do homework, sleep and play, even a sanctuary in which she could escape to for safety of her illness, but most importantly, a place she could take with her to see the world. 
Cassie was willing to wait for it and knew that she made the right decision.  
What she didn't know was the work behind the scenes that was happening to make her wish come true. A surprise was in store for that would reveal her wish in a spectacular way and it was all coming together at breakneck speed.  
The Sacramento HOPE PATROL, which consists of FOX40 News and the Sacramento County Sheriff's Office, were in full force to surprise her with her wish. 
It all started with a fly-by. A Sheriff helicopter and personal shout out to Cassie could be heard from inside her house. 
"What is going on?" Cassie said. 
Then came the sirens. 
A squad of police vehicles came parading down the street with sirens blaring and lights flashing. 
Next, a glance out the window and the cars were going by, but slowly.  
Finally, a truck stopped in front of her house. In tow… a trailer.  
It was Cassie's trailer. 
"With the helicopter going, and the police parade and everyone standing outside, it was overwhelming," Cassie explained.  "I was very nervous, but excited at the same time! It was great to see everyone supporting me, and the feeling of everyone coming together for me was amazing." 
Overwhelming for the modest, humble teen, but for Cassie's family, it was more than a moment of excitement. It was a chance to see just how much support they have.   
Neighbors stood on their front lawns with signs and messages of support for Cassie. In a time where distancing is enforced, nothing could make Cassie feel more connected to her community. The sheriff's deputies were excited to show Cassie her wish. It was a highlight for everyone involved during such a difficult time 
The surprise may have been overwhelming at first, but the realization that this was her own space was invigorating. The thoughts of how to utilize this space now, and in the future, showed in her face as she beamed with joy. 
And it was in that moment, Cassie took her mind off her medical struggles, and focused on something that really made her happy, that gave her hope. This moment carried a feeling that many regular kids experience throughout life: a new space, a new set of wheels. But for Cassie, this moment gave her the feeling of what it's like to be a normal kid for the first time in a long time. And that was powerful. 
"Being able to take the trailer with her as she gets older, in and of itself, has given her hope for her future," Mom said. "Now, she's thinking about all these little trips and adventures she'd like to do with her trailer, and you see her face light up when she talks about her future." 
"It's been a long time since we've seen her do that."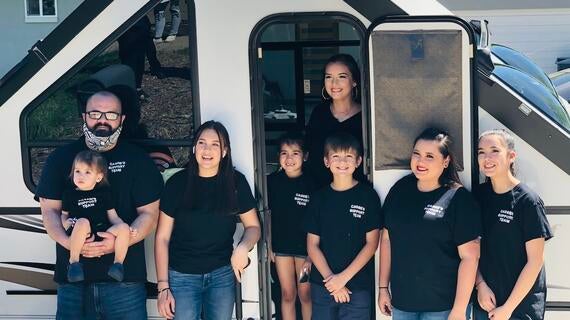 While it's parked in front of Cassie's house for now and allows her to escape and get some time alone (only sometimes though). Her siblings like to pay her a visit with snacks so they can hang out with her at her table! But it surely won't be there for long, as will Cassie. Cassie has dreams of taking it across the country, maybe even the continent, to experience the world for all that it is, to feed her adventurous soul. 
Her first adventure planned? A trip to Glass Beach in Fort Bragg, California, about four hours away from home. 
Of course, that adventure will have to stay on hold a while longer during this unprecedented time we're living in, but for Cassie, this unique "new normal" is often her every day. 
It's important to remember that for many wish families, Cassie's included, any little cold or bug caught in public could lead to a health setback.  
For Cassie, who has had to steer clear of people, even family members after various treatments for her skin condition and her thyroid cancer, our "new normal", is just her "normal". 
"Honestly, going through this pandemic for Cassie hasn't been a big deal, because she's a homebody, so for her it's a normalcy," Mom said. "To me though, it's humbling for other people to walk a mile in our shoes and see how it feels to have to go through so many precautions and lengths just to keep their family safe." 
However, Cassie's normal is going to change.  
The teen, who turns 17 in a little less than a month, is looking towards her future while holding on to the joy of her wish reveal and the heartfelt support she was shown when we all thought the whole world had stopped. 
And while the whole world may have seemed at a standstill, there was the local Hope Patrol squad, the neighbors who came out from behind their closed doors and the complete strangers (wish families and beyond) who showed up to let Cassie know that she is never alone, even if she now has a place to herself, for once in her life.