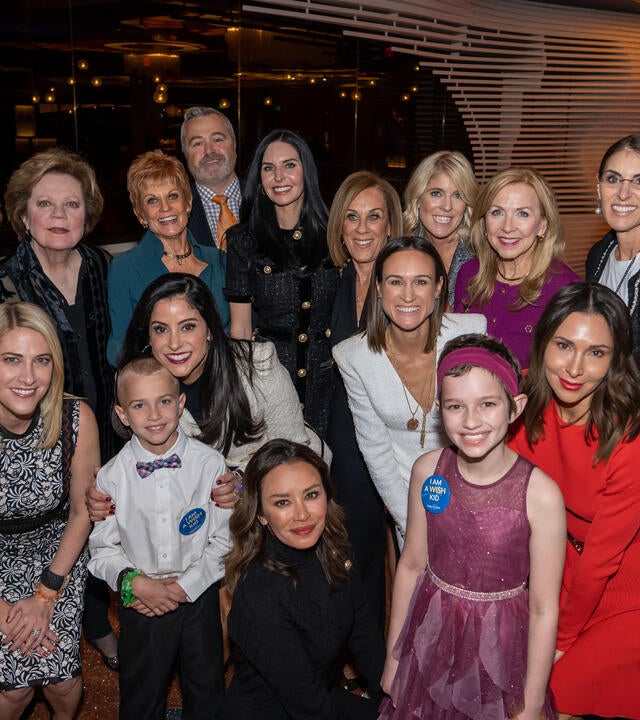 Fashion Luncheon's Unstoppable Success
When the Las Vegas community bands together, we can create powerful change. This power was evident when nearly 200 community members raised over $1.2 million in a single afternoon to support the Make-A-Wish mission to create life-changing wishes for children with critical illnesses. 
Our 18th annual Fashion Luncheon was hosted for the second year at Scarpetta inside The Cosmopolitan of Las Vegas in November 2019. Despite the gloomy weather, guests arrived with sunny attitudes and dressed to the nines – many sporting the unique styles of this year's featured designer, Balmain. 
On the hotel's third-floor promenade, the event commenced with a champagne reception and passed hors d'oeuvres as guests filled out raffle tickets and bid on the incredible silent auction items. They posed for photos in the photo booth and mingled with wish kids to learn more about the lasting hope and joy created by a wish. 
As the guests flowed into the restaurant for lunch, eyeing the endless rows of donated raffle prize baskets they hoped to take home, excitement and anticipation filled the air. They were ready for an inspiring afternoon filled with wish stories and delicious food.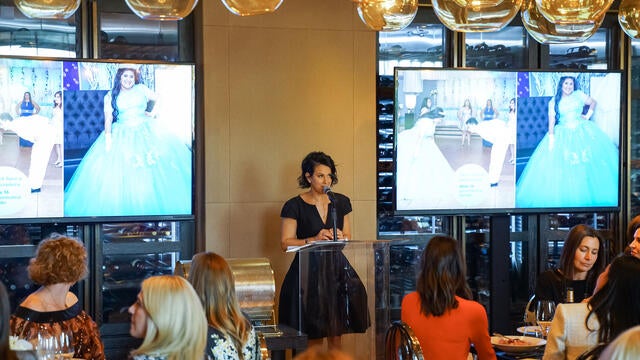 Caroline Ciocca, President and CEO of Make-A-Wish Southern Nevada, opened the luncheon by warmly welcoming attendees and expressing her gratitude for their support in changing lives. 
"Today, you are women inspiring strength and hope for so many young girls who are battling a critical illness," she announced. 
She described the stories of wish kids like Delilah, who wished to create a makeup line for cancer patients; Alivia, who wished for a traditional quinceañera; Madison, who wished to be an inventor and Khloe, who wished to meet her "Queen." These stories were both motivating and heartfelt to everyone in attendance. 
Next up on stage was Linda Richardson, Chair of the Fashion Luncheon committee and true embodiment of the Make-A-Wish spirit. Her longtime involvement with the chapter has inspired those around her to take action and she continues to support staff and wish kids alike with her infectious energy and unwavering dedication.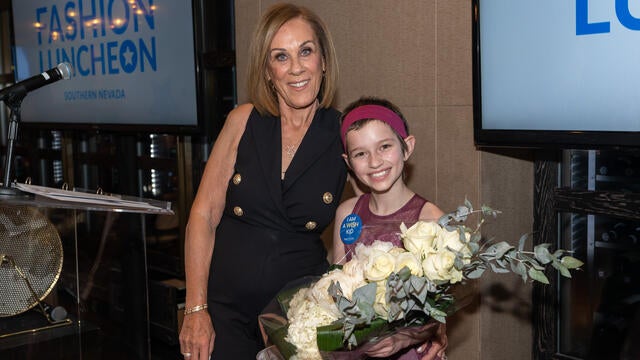 "Every year I feel even more gratitude for being able to be part of something so special, surrounded by friendship and all of you amazing people.  It really takes my breath away."
Linda Richardson
Chair, Fashion Luncheon Committee
Linda's daughter, Melissa Akkaway, exhibits the same generous spirit and has volunteered for Make-A-Wish for over 18 years. This year, she was honored at Vegas Gives, an event hosted by Vegas Magazine to highlight philanthropic women in the community. Through this event, Melissa raised $172,000 for Make-A-Wish Southern Nevada, an event record! Linda and Melissa's passion for our mission is truly unbeatable. 
The spotlight then shifted to the fashion portion of the afternoon, with an introduction by Brett Kane, Buyer for the Americas for Balmain. Sporting the exclusive looks from the collection, models strutted through the restaurant showing off the bold and modern designs.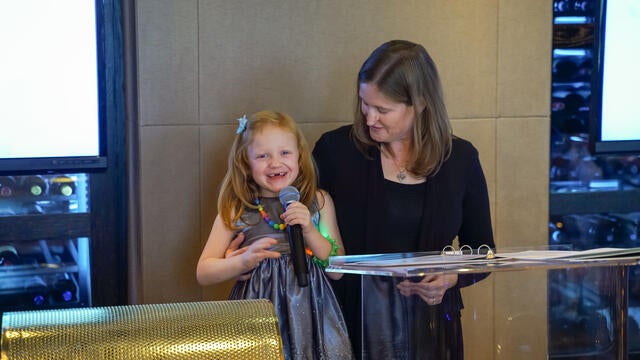 As desserts were passed around, the afternoon's sweetness was amplified by the arrival of wish kid Emma and her mom, Kirsten. Together, they described how Emma's wish to go to a dude ranch brought joy and hope to her family. Emma melted hearts as she concluded their story with an enthusiastic, "Thank you, Make-A-Wish!" 
After the event's fundraising efforts concluded with a live auction, the numbers were in.  Together with the help of the Fashion Luncheon attendees, we raised over $1.2 million to support the Make-A-Wish mission. 
Thank you to Linda Richardson and the Fashion Luncheon Committee for executing another record-breaking event; Shannon and Bill McBeath for arranging the event venue at Scarpetta in The Cosmopolitan of Las Vegas; Balmain for providing the incredible fashion show; MAWSNV volunteers, staff and wish kids; our event sponsors (see below); and all of the event attendees who opened their hearts to our mission. 
Thank you to the Fashion Luncheon Committee: 
Linda Richardson, Chair
Melissa Akkaway, Co-Chair
Kristine Creel, Co-Chair
Vanessa Breitling
Matthew Chilton
Victoria Otter
Corie Sawdon
Gina Schonfeld
Judy Stone
Barbara Stout
Debbie Swissman
Helene Walker
Kristin Winchell
Thank you to our sponsors: 
The Cosmopolitan of Las Vegas
Sands Cares
UFC 
Vegas Golden Knights Foundation 
Konami Gaming 
Bank of America 
Cabo Wabo Cantina 
Scarpetta | Cashman Photo | The Creel Family | Destinations by Design | PSAV | Southern Glazer's Wine & Spirits