I wish to go on a shopping spree
Jaxon
17
cancer
Jaxon's wish to go on a shopping spree
In January of 2020, 17-year-old Jaxon from Aberdeen, South Dakota, was diagnosed with cancer. Shortly after this diagnosis, Jaxon's mother, Jennifer, referred Jaxon for a wish. Once it was determined that Jaxon was eligible to receive a wish, his two wish granters, Katie and Hannah, got to work in helping Jaxon discover his wish. They learned he is an avid gamer and enjoys building and fixing things.
Jaxon wished for a shopping spree to go shopping for items that revolve around those two passions of his: "This would give me an opportunity to go and get what I've always wanted. I love playing video games and I like creating what I find in them with my hands.  The tools & the technology I could get would allow me to get creative with what I could build." 
The day before Jaxon's shopping spree, he rang the bell at Sanford Children's Hospital, signifying the end of his chemotherapy treatments. He'd get the chance to celebrate this milestone by shopping at his favorite stores the very next day! On November 20th, Jaxon was picked up in a limo at his hotel bright and early. A couple of stores were opening early just for Jaxon!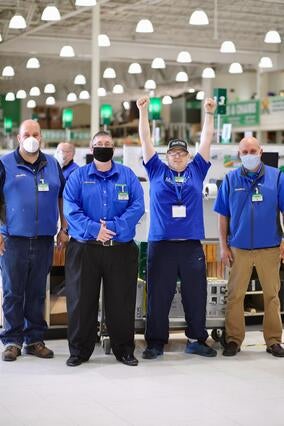 His first stop was Scheels, where Scheels staff, Make-A-Wish staff, and Make-A-Wish volunteers were waiting to greet him. On his wish list was a punching bag, but he also picked up a rubber chicken that squawked—this might have just been his favorite purchase of the entire day.  Next on his list was video games. Like Scheels, GameStop opened their store early, allowing Jaxon to have a private shopping experience. With Jaxon's gaming wish list fulfilled, it was time to head to Menards, where he had a personal shopper to help him find everything he needed to build and create. This much shopping makes a person hungry, so the next stop was lunch at Fuddruckers. After devouring burgers, it was time for the final stop of the day—Wal-Mart. Jaxon shopped online for items at Wal-Mart, so they were ready for him to pick up curbside in his limo with special loading assistance from a character with the 501st legion.
Jaxon's wish was generously adopted by our friends with the Country Tractor Run. Without the help of donors, wish granters, volunteers, and many businesses, Jaxon's wish would not have been possible. Each hand in his wish was as important as the next. Now that his wish has been granted, Jaxon can find joy by escaping through the world of video games and by exploring his creative outlets through building and fixing things.
We'd like to thank the following businesses for helping us make Jaxon's wish come true: ClubHouse Hotel & Suites, Stellar Limousine, Scheels, The Empire Mall, GameStop, Menards, Wal-Mart, Fuddruckers, and Marlee Hayes Art & Design.
This [wish] would give me an opportunity to go and get what I've always wanted...
Jaxon
Wish Kid