I wish to be a Marine
Haoran
6
acute lymphoblastic leukemia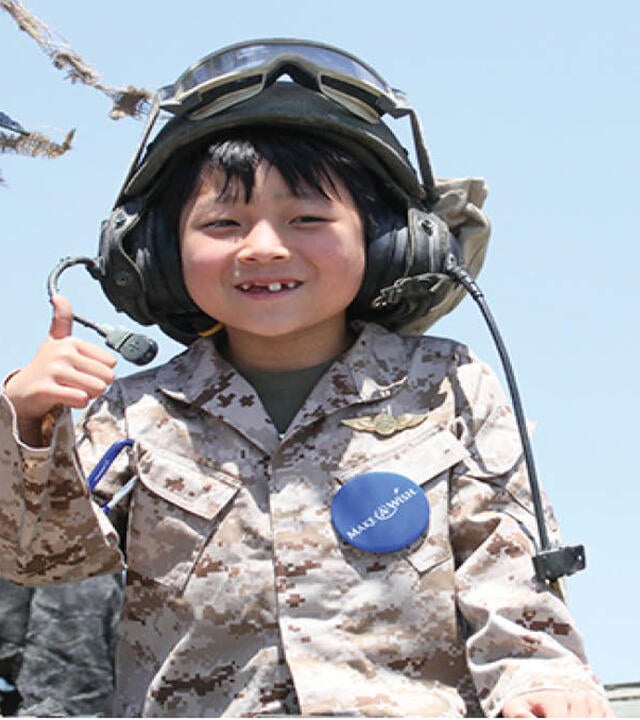 In March of 2012, at just 2 years old, Haoran was diagnosed with acute lymphoblastic leukemia, a cancer that affects bone marrow. The diagnosis came as a devastating blow to Haoran's family. Yet despite the terrible news, Haoran's lively spirit never faltered.
Like any 6-year-old boy, Haoran loves playing with Legos and dinosaurs and spending time with his friends and family. Aside from his favorite activities, Haoran enjoys supporting his favorite soccer player and sports team... his best friend, Samuel and his soccer team!
Haoran's most favorite things to do is read books about tanks and fighter planes. After reading a book about the military and being fascinated by their heroic actions, his biggest wish became to have a military experience of his own. He especially wanted to explore the inside of a tank and aircraft.
Soon enough, the team at Make-A-Wish stepped in to make his most heartfelt wish a reality.
With the help from the Marines at Camp Pendleton in San Diego, Haoran and his family headed out on his birthday to let him have his own military experience for the day.
At Camp Pendleton, he met with several Marines, who gave him and his family their own personal tour of the military base. During his tour, he was able to try on military gear and even eat lunch with them. The highlight of the whole experience for Haoran was when his dream came true and was able to explore the inside of a tank and military aircraft.
According to Haoran's mom, it is something that he still talks about frequently. To this day, he still wears the T-shirt and other items given to him on a daily basis. Haoran's wish to have a military experience for a day is one that he and his family will surely never forget.
Despite all the hardships Haoran has endured throughout his journey, there is no doubt that he is a true hero