I wish to go to New York
Sarah
13
systemic sclerosis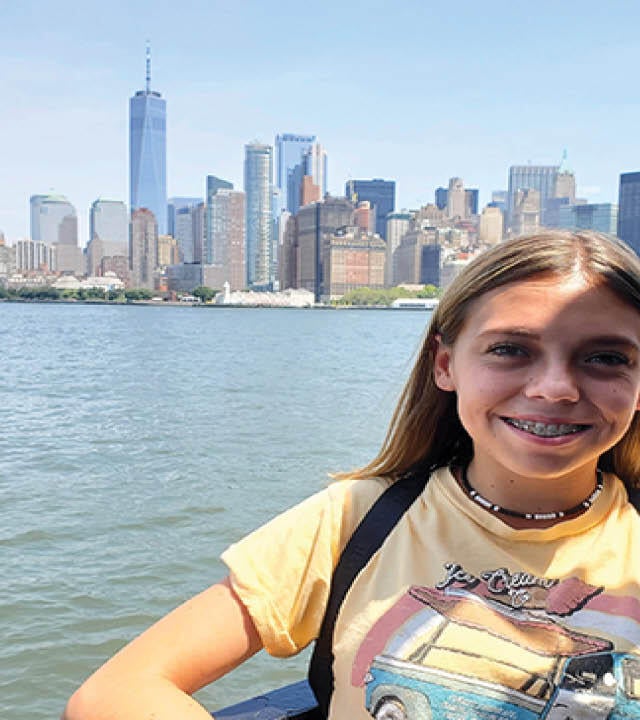 Sarah is a bright and adventurous girl who spends her days doing what most girls her age would: taking selfies with friends and watching Disney movies. Her time spent doing fun activities soon turned into dreadful appointments at the hospital. At the age of 12, Sarah was diagnosed with systemic sclerosis, a rare chronic disease characterized by diffuse fibrosis and vascular abnormalities in the skin, joints and internal organs. Her family was heartbroken as they watched her endure hours of surgery and physical therapy rather than playing tag or hide-and-seek with her brother, something she enjoyed most.
Despite these difficult challenges, Sarah always remained positive with a smile as bright as the sun. She continued to enjoy the outdoors and dreamt about traveling to explore more of the world's beauty.
Sarah's family soon discovered that she was eligible to receive a wish from Make-A-Wish! This turned Sarah's world right side up, knowing she would be able to go anywhere she had dreamt of going. When asked about her most heartfelt wish, it was no surprise that she wished to go to New York! She had always seen the New York landscape on Disney Channel and wanted to experience it for herself.
In July of 2019, her wish came true. Sarah and her family took a trip to New York and she got the chance to visit all of the famous sites she had been yearning to see. From watching scenes on TV to finally seeing it with her own eyes, Sarah's experience was nothing short of incredible. She saw the Statue of Liberty, Times Square and the Empire State Building – three sites she could not stop talking about. She always wanted to try the New York style pizza and cheesecake, so when given the opportunity, she indulged! After five adventurous days, Sarah's wish was fulfilled experiencing day-to-day life in New York City.
Sarah and her family are extremely thankful for the unforgettable experience. Watching her dream become a reality in front of her own eyes was an experience that Sarah would cherish forever.