I wish to be a "cop officer"
Kajj
4
Wilms tumor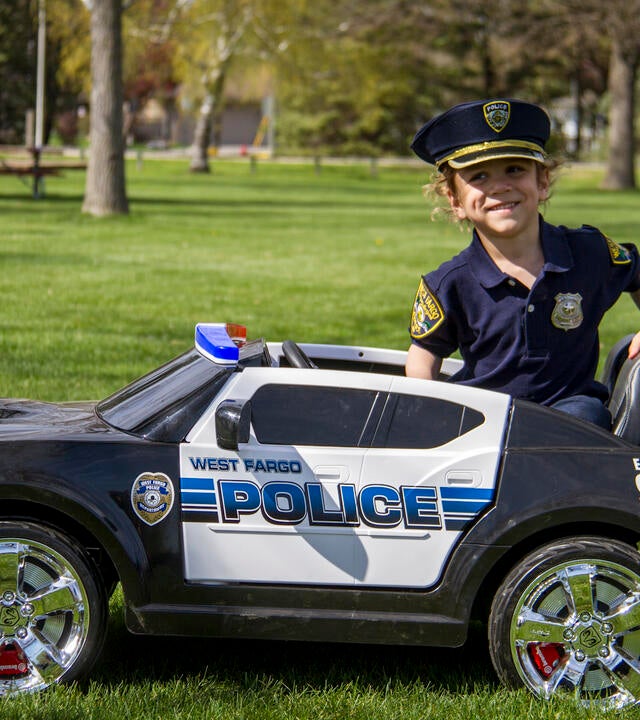 Kajj's Wish To Be a "Cop Officer"
Whether he's at home or preschool 4-year-old Kajj loves playing "cop officer." He tells his family when he grows up, he wants to be a "cop officer" and get the bad guys. If he spots an officer, he asks his family to stop so he can talk with the officer. So when Make-A-Wish® volunteers met with him, there was no question what his one true wish was!
Kajj's day began with a surprise visit at his house from Officer Balvik requesting Kajj's help for the day, and was surprised to receive his very own uniform. Once Kajj was dressed and all prepared, he was taken to the West Fargo Police Department. When they arrived, the red carpet was lined with his fans cheering Kajj on. At that time, he was sworn in as the newest member of the department. Of course, before he could start patrolling the streets, Kajj needed to have his donut break. 
Kajj hit the streets with his partner patrolling for a green car suspected to be involved with criminal activity. When they spotted their 'bad guy', the lights and siren went on and the chase began. Kajj sat up straight and cheered on his partner to catch that car! The car finally surrendered and pulled over. Officer Kajj handcuffed the bad guy and took him to the jail where he would have to wait to see the judge. Making your first arrest can really work up your appetite so the team took a lunch break at Kajj's favorite restaurant, McDonalds. 
After their break, Kajj was ready to get back in the action. He went back to the police department to meet its canine, Disco. Just as they were leaving the department to patrol again a call came in that a suspicious man was in the parking lot! They turned around and found a man looking through all the cars. Kajj, with the help of an officer, warned the man to turn himself in or they would have to send Disco after him. When the man refused to surrender, they released Disco. After a jump and fist pump in celebration, Kajj encouraged the crowd of onlookers to join him in this arrest.
Now that Kajj had made two very successful arrests, he was confident he could arrest anyone, including his wish granting volunteers! But Kajj's day wasn't over yet. He had one more patrol scheduled for the day. Only this time it was an aerial patrol. When the helicopter landed, Kajj couldn't wait to go for a ride. He used to watch helicopters take off and land from his hospital room while recovering from surgery and receiving treatments from his Stage V Wilms Tumor.  While this was his last patrol of the day, it certainly was not the last activity for Officer Kajj.
Kajj's helicopter landed at Elmwood Park where the community was there to cheer him on once again. And what better way to end the day than with an ice cream social? Kajj was presented with gifts from the West Fargo Police Department and his wish volunteers. It was an action filled day that Kajj will never forget.