Student & School Engagement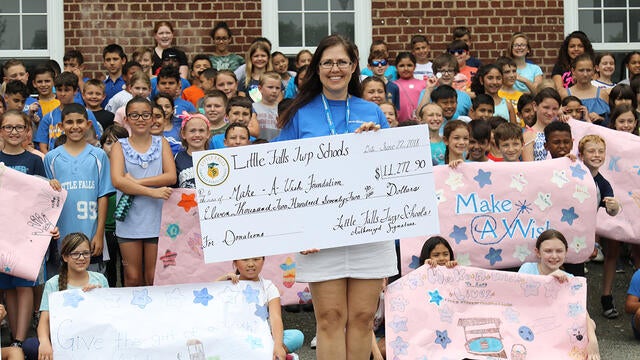 Engage your peers, school, college or youth organization in hands-on fundraising and service activities that will help transform lives in your community with Kids For Wish Kids® and Wishmakers on Campus®. 
Kids For Wish Kids is a unique program managed by kids, for kids. Inspiring kids under the age of 18 can have an impact in right in our community. The Kids For Wish Kids program engages students, schools and youth organizations in philanthropy and service activities in partnership with Make-A-Wish. The program encourages community service, leadership, volunteerism and teamwork. It builds team spirit and gives students hands-on experience fundraising to help create life-changing wishes for kids fighting critical illnesses. 
Kids For Wish Kids puts kids in charge. They take the lead to brainstorm fundraising ideas, create action plans and manage everything from start to finish. Students can even combine their efforts for existing school events, such as spirit week or field day. Kids develop leadership skills, build self-esteem and learn about teamwork while working towards a final goal, making a difference in the life of a child who is fighting overwhelming odds. 
Wishmakers on Campus empowers the collegiate community in New Jersey to help fund life-changing wishes for local children fighting critical illnesses. By planning fundraisers, hosting events and raising donations for Make-A-Wish New Jersey you can be a beacon of light for children in your community during their darkest days. The program invites you and your on-campus organization to help grant life-changing wishes and bring hope and joy to local children when they need it most. 
The program includes fundraising ideas and objectives to simplify the planning process. Your group simply adds your own creative touch to existing ideas or you can create a project of your own.