I wish to be a gymnast
Joselin
6
gastrointestinal disorder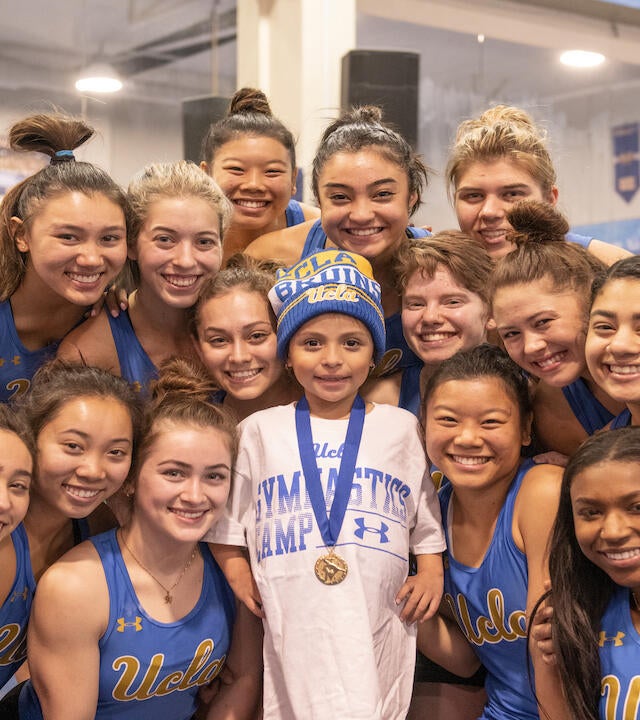 Joselin's Wish to be a Gymnast
Six-year-old Joselin was born with a gastrointestinal disorder that was extremely challenging since birth. Her Dad Gabriel recalled that it was heartbreaking to see his baby at just four pounds hooked up to i.v. tubes. Despite the pain of constantly getting blood drawn, Joselin still managed to give him and her Mom Sinthia huge smiles – something that helped them get through this incredibly difficult time.  
Today, Joselin is a bright-eyed six-year-old with dimples and boundless energy. She has a permanent port in her chest and receives nightly ten-hour treatments to get the nutrients her body needs. Despite these challenges, she is super active and attends weekly gymnastics classes. Gabriel says she especially loves swinging around on the rings and bars and running on the floor during the routines. Joselin loves to show off her gymnastics report cards from her coaches, which are full of stars for a job well done, and practice on pink and purple mats she has in her bedroom. Gabriel says, "Our goal for Joselin is that the sky is the limit. The only limit she has is the one she puts on herself. Gymnastics has made her fearless!" 
When Make-A-Wish Greater LA volunteers Don and Roberto asked Joselin what she wanted to wish for, it was no surprise that she told them emphatically that she wants to be a gymnast. The Make-A-Wish team went to work, calling on the community to help grant this very special child's wish – what actually turned out to be Make-A-Wish Greater LA's 10,000th wish!
A perfect 10 all around for our 10,000th wish!
Our friends at UCLA Women's Gymnastics, including legendary Coach Val and Olympians Jordyn Wieber, Kyla Ross and Madison Kocian, invited Joselin to take part in an actual team practice. Joselin got to suit up in a custom UCLA leotard gifted by the team and warm up with the NCAA champs. They carefully took Joselin through handstands, rope climbs, the beam and even tumbled in a foam pit with her. Gabriel and Sinthia beamed watching their daughter take on every new challenge with her typical energy and fearlessness. Joselin even beat Coach Val in a pull-up contest! The practice ended with an Olympic-style ceremony where Joselin was awarded a gold medal and a Wheaties box with her face on it. She received perfect tens for the joy she brought to the whole community. 
This very special wish would not have been possible without the support of our long-time friends and donors, Patti and Mark McGuire as well as the entire UCLA family for welcoming Joselin's family and Make-A-Wish with open arms. The practice was followed up by a reception at Make-A-Wish LA's offices where Joselin signed autographs, posed for pictures, and enjoyed some wonderful food and activities donated by our generous supporters. A perfect 10 all around for our 10,000th wish!