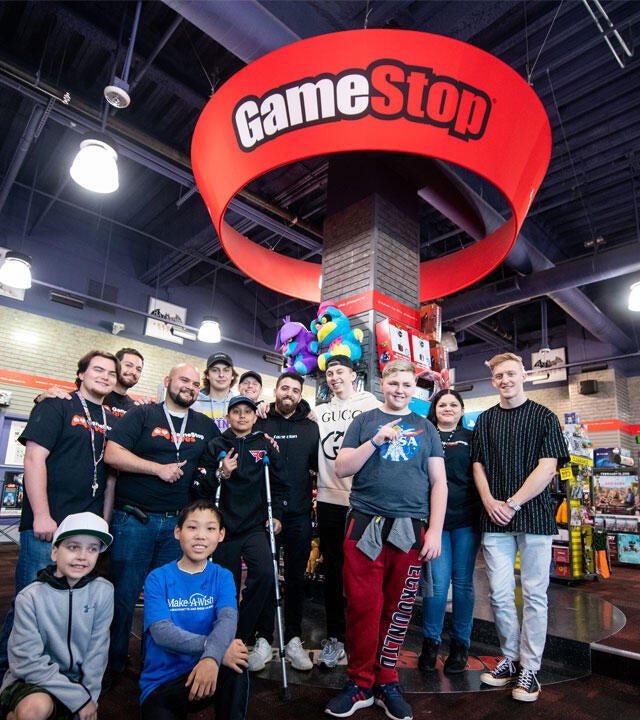 Wish Power
Using the Power of Gaming for Good
Since 2007, GameStop has been a go-to place for wish kids who love gaming. They have granted more than 3,600 epic gaming wishes, personally helping kids shop, throwing welcome parties and creating out-of-this-world game rooms.
Every day, they help kids not only smile again but give them renewed strength and confidence to fight harder against their illnesses. For many of these kids, video games and gaming are not just for entertainment – they can also have huge emotional and psychological benefits too. Gaming can give them opportunities to socialize with friends while they are undergoing treatment in the hospital, create a distraction from daily challenges and aid in their overall therapy.
That's powerful!
That's why we are excited to announce our new Wish Power program. Launching fall 2019, Wish Power will take our wish-granting efforts to the next level – from in-kind gift cards, in-store shopping sprees and in-store customer donations – ensuring more kids receive epic gaming wishes too.
And, you can help too! As a customer, you can donate at check out during our annual customer donation campaign, support today with an online donation or volunteer your time. Help us make more wishes come true for kids battling critical illnesses.
Find a local store in your area
When you donate, you're giving children renewed strength to fight their illnesses
Join a caring community who transform lives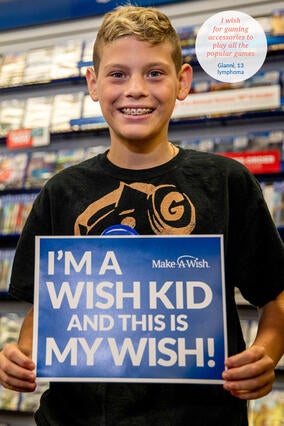 Gianni's Epic Gaming Wish Comes True
After a tough battle against his illness, today Gianni's wish would come true. Gianni loves video games – it's something that helped him pass the time while fighting his lymphoma. So, his wish granters and family were not surprised when he chose gaming accessories for his wish.
As the 13-year-old arrived by limo to the GameStop store, associates waited outside cheering him on. They personally helped him shop for a PlayStation 4 and loaded it with all his favorite games. He even was given 50,000 V Bucks. That day, Gianni wasn't thinking about the last year or even months of pain, he was focused on fun, adventure and all the fun he can have with his friends.
With each unique wish experience, GameStop goes above and beyond to make every child's wish one-of-a-kind. They are integral to the strength, hope and joy that Make-A-Wish® brings to kids battling critical illnesses. We are grateful to GameStop and the impact they had in Gianni's life and the lives of so many other wish kids.