Amelia Takes Care of the World
All 8-year-old Amelia wanted was to make the world cleaner. She ended up inspiring thousands to do the same.
How can one 8-year-old girl inspire a nation to take care of the world? Well, all it took was a wish.
Eight-year-old Amelia was battling brain cancer. And during her treatment regimen, she and her grandmother had a routine of leaving the hospital and walking together to a nearby park. As they walked and talked, they also picked up trash. To them, they were making the world a bit more healthy and a bit more beautiful, and brightening the community and people's days. It brought them joy. It brought the world joy.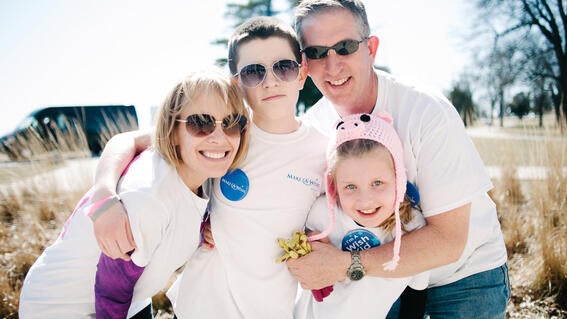 It seems so simple, yet this joyful act inspired Amelia. And when Make-A-Wish asked Amelia what she wished for – anything her heart desired – she said she wanted to take care of the world. An ambiguous answer that left the volunteers baffled, Amelia explained that the parks in her hometown of Kansas City, Missouri, look better when they are clean and that it helps the animals in the park when they have a clean environment to live in.
The volunteers listened and their own imaginations took off. Yes, Amelia could spend a day cleaning up parks around Kansas City but what if she lead a group of people to take care of the world? That is how on one chilly February day, a young girl led hundreds of volunteers and supporters through three local parks to pick up trash.
Amelia, with her piercing blue eyes and pink hat shaped like a pig, stood a little taller and seemed wiser than her years as she hiked and cleaned and laughed and worked. She led this cleaning crew to their final park destination where she was met by community members lining the streets along with police cars and fire trucks. Kansas City Mayor, Sly James, greeted the group and proclaimed February 27 "Amelia's Take Care of the World Day." A bench was installed in one of the parks in Amelia's honor and to remember her wish day. And Beryl Raff, CEO of Helzberg Diamonds, presented Amelia, her mother and grandmothers with matching necklaces to remember the wish day.
All of this was captured online and shared across the world as thousands of tweets using #AmeliasWish flooded the social media platform Twitter. Seeing this young girl's selfless wish inspired others to pick up trash in their communities, acts done in solidarity to take care of the world.
In the end, it showed that the impact of one girl's resilience and hope can inspire thousands and truly make the world a better place.
Hundreds of people gave up their Saturday to pick up trash with my daughter. They had nothing to gain but making a little girl's wish come true.
Jill
Amelia's mom